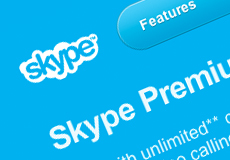 Skype has announced the Freetalk Connect-Me home phone adapter that serves as a conduit between a broadband Internet connection and an ordinary telephone.
"It appears that Skype is aggressively going after the Magic Jack demographic and attempting to teach your grandmother how to Skype," comments Digital Trends. "A new adapter transforms that aging landline phone into an Internet gizmo."
The $40 Freetalk Connect-Me features a simple design of an Ethernet port and two ports for phone lines (allowing users to keep a landline and switch between the two services), and stores up to 100 numbers for speed dialing.
"While a user can make free Skype-to-Skype calls, they will have to purchase a plan in order to call landlines from the Skype handset," indicates the Digital Trends post. "While the initial $39.99 adapter comes with 60 minutes of free landline calling, an more expensive $59.99 model comes with 12 months of landline calls as well as 200 minutes of international calls."
Skype has also announced a new $70 Skype-ready cordless phone from General Electric and the rollout of a rebranded version of Skype Access that provides low cost Wi-Fi access for business travelers.