Montreal-based D-BOX Technologies — manufacturer of custom-designed seats for film and gaming entertainment — recently announced it will outfit 70 locations (50 in the U.S.) with "MFX" motion-equipped theater seating for screenings this summer. Theater-goers willing to spend an additional $8 can expect an enhanced, immersive experience viewing movies such as Pirates of the Caribbean: On Stranger Tides, Super 8 and Harry Potter and the Deathly Hallows – Part 2 from motion-equipped seats. D-BOX hopes to expand its seating to 200 locations one year from now and up to five times that within the next four years.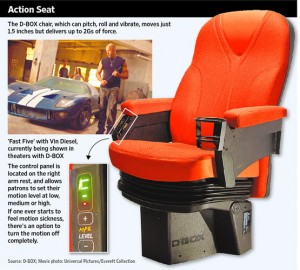 The company introduced its technology in 2009 with a motion-coded version of Universal's Fast & Furious playing in only two theaters. D-BOX equipped additional theaters the end of April with MFX seating for the latest installment in the same series, Fast Five. According to the Wall Street Journal: "Motions range from being pitched forward, backward and side to side, to experiencing a momentary freefall when a character, say, leaps off a cliff. Seat-side controls let squeamish viewers dial down the intensity level of the experience — which on the highest setting can reach up to two times the acceleration caused by gravity."
D-BOX Motion Code technology uses motion effects programmed for each film (as well as TV series or video games for home seating) so that the resulting motion is synchronized with the onscreen action and sounds. According to D-BOX, Motion Code is available on more than 900 titles and studios have started embedding it on many Blu-ray and theatrical releases, enabling MFX using three types of intelligent movement (subtle pitch, roll and heave) in addition to vibrations.
Although headquartered in Canada, D-BOX has a research-and-development office in Burbank, California.
Check out the Movie Theatre page of the D-BOX site for a location near you featuring MFX-equipped seating.