ReDigi, the online platform that allows consumers to buy and sell used MP3 files that were initially purchased legally through retailers such as iTunes, has been deemed unlawful by U.S. District Judge Richard Sullivan. The case considered the first sale copyright doctrine, which gives people in possession of copyrighted materials the right to resell them. But the judge ruled that this first sale theory does not apply to the reselling of digital goods.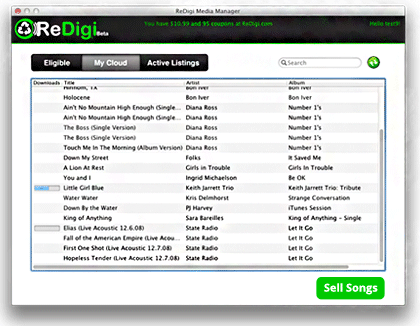 "The first sale defense does not cover this any more than it covered the sale of cassette recordings of vinyl records in a bygone era," wrote Sullivan.
The decision will have an impact on ReDigi, and possibly companies like Amazon and Apple, who both "have patented platforms for the reselling of used digital goods such as books, music, videos and apps. Judge Sullivan's ruling, if it withstands appellate scrutiny, likely means used digital sales venues must first acquire the permission of rights holders," reports Wired.
"The novel question presented in this action is whether a digital music file, lawfully made and purchased, may be resold by its owner through ReDigi under the first sale doctrine. The court determines that it cannot," the judge ruled.
"The reason, the judge ruled, is because copying, or an illegal 'reproduction' of a music file, takes place, despite ReDigi's claims to the contrary," explains the article. ReDigi says that its technology deletes the original file once a copy is put up for sale.
Capitol Records sued ReDigi in early 2012, calling it a "clearinghouse for copyright infringement." And the judge agreed with the company's claim, stating ReDigi had no fair use defense in response to the infringement suit.
"The decision came less than two weeks after the Supreme Court upheld the first sale doctrine in the case of Kirtsaeng v. John Wiley & Sons, about a student who was importing and selling textbooks that he had bought at a lower price overseas," reports The New York Times. That case concerned different aspects of the rule, and legal experts said it did not apply strictly in the ReDigi case. But digital rights advocates worried the decision effectively banned an online secondary market."