Google's latest hardware development hit stores last week as the company unveiled its first touchscreen laptop powered by the Google Chrome operating system. Called the Chromebook Pixel, it costs $1,299 for the Wi-Fi only version and $1,449 for the upcoming version with built-in LTE wireless technology for use on-the-go. The LTE version goes on sale in April with Verizon offering special wireless plans for new owners.
The new devices will be sold through Google Play, BestBuy.com and consumers can test them at select Best Buy stores in the U.S. and Dixons PLC's PCWorld stores in the UK. "The Internet giant has been pushing into hardware design, aided by its newly acquired Motorola Mobility unit, which designs and builds smartphones and tablets," writes the Wall Street Journal.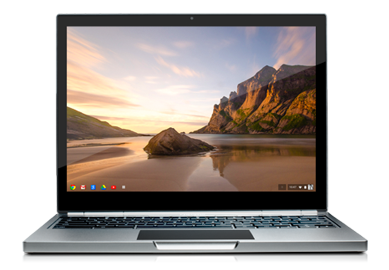 Intel has been vocal in encouraging the adoption of thin portables called Ultrabooks, "which include models that can be operated in a tablet or clamshell model," adds the article. Most of these devices use Microsoft's Windows 8 operating system, which has a new touchscreen interface.
Top Google Chrome executive Sundar Pichai said although it could take people some getting used to regarding the touchscreen interface, he also believes "it would improve the way they scroll up and down on a Web page, swipe to move through online photo albums or view sites such as Google Street View, which shows panoramic images of city streets," reports WSJ. "It's clear [that] touch is here to stay and it's the future," he said.
The Chromebook Pixel "boots up in a matter of a few seconds, has 32 gigabytes of storage on the Wi-Fi-only device (the LTE model has 64 gigabytes) and comes with one terabyte of storage space in Google Drive online file-storage program," details the article.
But one possible crutch could be the high price tags on the devices. According to Stephen Baker, an analyst at research firm NPD, Google is "certainly out in front of a number of trends that will be impacting the market," but even so, the price tag represents "a big jump" from earlier generation Chromebooks.
Google has been asking programmers to write apps for touchscreen Chrome devices. "The Chrome laptops are designed primarily to run Web-based applications, including those that use programming technology called HTML5, rather than applications stored on the device," notes WSJ.
Topics:
Best Buy
,
Chromebook
,
Chromebook Pixel
,
Google
,
Google Play
,
Laptop
,
PC
,
PCWorld
,
Touch Screen
,
Touchscreen
,
Ultrabook
,
Wi-Fi