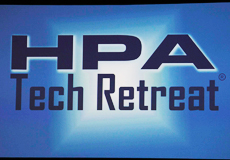 The 2012 HPA Tech Retreat kicked off today with a full-day session on "snowflake" workflows — the name referring to the fact that is seems no two are alike.
"We are caught up in the blizzard," said HPA president Leon Silverman. "Nobody in film uttered the word 'workflow.' Nobody needed to… Digital cinema led us on the path to these new digital workflows."
"We need to capture dynamic range, bit depth…and (know) that it can be consistently used without compromise across the entire workflow. So if it never stops snowing there is a way to enjoy the winter."
Citing the promise of IIF-ACES, Silverman noted that there is still work to be done so that the industry can "embark on the digital age without creating the digital ice age."
The first speaker of the day was Light Iron CEO Michael Cioni, who noted that with changing IT, the industry needs to avoid complacency and challenge the status quo.
Cioni believes that among the changes are it is no longer "who" you know, rather "what" you know; "rental houses are starting to know more about post than some post houses;" and black boxes and secret sauces are no longer unique selling points.
He suggested that snowflake workflows require a unique approach with one person dedicated to overseeing the entire process. "I believe snowflake workflows are a liberating way to customize…and raise the ceiling," Cioni said. "Creatives don't like to feel restricted. Workflow needs to work with them."
Cioni believes challenges to the current way of working are happening on the camera maker side more so than the post production side of the business. He cited as examples Sony with its F65, but also Peter Jackson's workflow on "The Hobbit."
Looking ahead, he introduced some concepts including: Totalcode ("the idea that we take the original idea of timecode and integrate it into the motion picture industry"); Geosync Clocking ("we need a single source"); "Triple-System" Capture (camera, sound and metadata); Tablet Dailies; Improved Fidelity ("I believe we'll move toward higher sensor technology") and The Cloud.
Cioni urged service providers to stop retrofitting, and instead create something completely new.