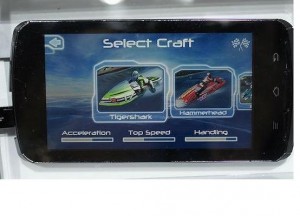 Fujitsu is the first manufacturer to publicly display a quad core Android phone prototype at CES.
The unit, which was not given a name, looks consistent with the Arrows line. It has a 4.6-inch screen with 1280×720 resolution.
Attendees were not allowed to handle the handset, which was displayed under plexiglass, but it was demonstrated to impressive effect driving games via HDMI cable to an HDTV screen and wirelessly using Bluetooth with a game pad.
The Android device was running on an NVIDIA Tegra 3 processor and features an impressive 13-megapixel camera.
Details such as price, carrier agreement and release date were not available. Fujitsu plans to show a more complete development model at Mobile World Congress in February.
HTC has announced plans to release a Tegra 3 quad core handset, the Edge. Though HTC did not show the phone at CES, it is speculated that the 4.7-inch Android unit, also 1280×720, will be the first in class to actually come to market (some say as soon as the first half of the year), through an as yet unspecified carrier.