Producer Legendary Pictures and distributor Universal Pictures tapped YouTube stars Felix Kjellberg and Marzia Bisognin to develop a companion Web series for the horror movie, "As Above, So Below," which opened in theaters this past weekend. PewDiePie and CutiePieMarzia, as the two are better known on YouTube, shot the series in the movie's setting, the catacombs of Paris. The six-part Web series has generated about 20 million views, while the film's trailer has been played 9.7 million times.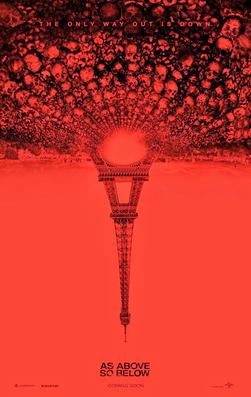 Kjellberg is one of the most popular video creators on YouTube with over 30 million subscribers. To promote the movie, he produced a series called the "As Above, So Below: Catacombs Challenge." PewDiePie took viewers on a pitch-black scavenger hunt through the catacombs. Bisognin's videos were more of the travel vlog variety about the couple's trip to Paris.
Maker Studios brokered the ad deal between the movie's distributor and the YouTube stars. Those deals may become more common in the future.
"Certain advertisers are starting to get more comfortable with putting their brands in the hands of YouTube creators, despite the edgy nature of the content," reports The Wall Street Journal.
The YouTube stars still put their own style into the marketing campaigns. "The idea has to be the right idea," said Maker Studios' head of sales Jason Krebs. "Our talent is extremely forward leaning when it comes to marketing. But their entire business is built on their personalities. They can't do a money grab. And with branded content, it's key that nobody would think they're getting tricked. It has to be first and foremost entertainment."
Meanwhile, the horror movie, "As Above, So Below," is expected to do relatively well at the box office. According to Variety, the film earned $3.2 million on Friday and will likely finish with $11.3 million by the end of Labor Day weekend. (Update: As of press time, Box Office Mojo listed the four-day holiday weekend gross at $10.3 million.)
Topics:
Advertising
,
As Above So Below
,
Box Office Mojo
,
CutiePieMarzia
,
Felix Kjellberg
,
Horror Film
,
Jason Krebs
,
Legendary Pictures
,
Maker Studios
,
Marketing
,
Marzia Bisognin
,
Miniseries
,
Movie
,
Online
,
Paris
,
PewDiePie
,
Promotion
,
Scavenger Hunt
,
Subscribers
,
Universal Pictures
,
Video
,
Web Series
,
YouTube