Yamaha developed its "Remote Cheerer powered by SoundUD" system, an app to let Japanese sports fans in remote locales convey encouragement and displeasure to their teams in an empty stadium. In a recent test, users in a number of locations sent boos and cheers to 58 speakers in the 50,000-seat empty Shizuoka Stadium ECOPA. A Tunisian soccer team did exactly this in 2013, after the Arab Spring made mass gatherings impossible. Their app allowed 93,000 fans to cheer on the players via 40 speakers in the stadium.
The Guardian reports that, in Japan, "the app does not, as yet, allow fans to question the referee's eyesight, or the eating habits of players who struggled to stay match-fit during the league's virus-enforced break."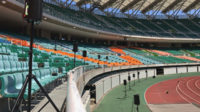 "Users were able to gain a sense of being present at the venue, even though it's a massive stadium," explained Yamaha, which added that the system "demonstrated the ability to create a spectator atmosphere similar to that of a real match." According to Yamaha, the app, "developed with help from J-League clubs Jubilo Iwata and Shimizu S-Pulse," will be "adapted for use at a range of sports and other events held behind closed doors or with limited numbers of spectators."
An earlier effort to fill an empty soccer stadium in South Korea failed spectacularly when viewers realized the "fans" sitting in the seats were actually sex dolls. The K-League hit the club with a "record fine." In Japan, the J-League "is expected to resume matches in late June or early July pending agreement from its 58 teams." The country's professional baseball season "will start behind closed doors on 19 June — three months later than scheduled."
The Wall Street Journal reports that, in Tunisia, the Club Sportif Hammam-Lif responded to the fact that the game "would have to unfold without any fans in the building" by developing an app that WSJ  says is "a model for pandemic-stricken leagues worth tens of billions of dollars across the globe."
With this app, the more users tapped their screens, the louder their voices became. Although "the noise was fake … the elation was real — especially when Hassen Harbaoui rifled in the game-winning goal to save Hammam-Lif's season." The following year, fans were allowed back in the stands.
With COVID-19 emptying out sports venues, "teams across the globe [are forced] to figure out how they can be more like Hammam-Lif." The Tunisian app "hasn't been revived yet, though a Memac Ogilvy spokeswoman said there are ongoing discussions about scaling it for the current environment."
For more information and video demo on the Yamaha Remote Cheerer, visit the company's news release.