Digital filmmaking tools have become increasingly accessible, and now Wonder Dynamics wants to make photorealistic CG characters available for any budget. The software firm says its product enables users to drag and drop computer-generated characters into live-action scenes as if they were custom generated. The company's web-based editor, Wonder Studio, is billed as a full-blown tool, not a toy, and aims to help ease artists' workload. The three-year-old startup has raised $12.5 million to date. Co-founders Nikola Todorovic, a writer-director, and actor Tye Sheridan, who starred in Steven Spielberg's "Ready Player One," say it's the tool they've craved.
"Both Tye and I were writing films we couldn't afford to make," Todorovic told TechCrunch, which notes that while "software for creating 3D models, editing, compositing and coloring (among other steps in the filmmaking process)" is much easier to buy and use today, "the process for actually putting a CG character in a scene is still very complicated."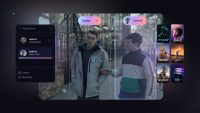 Due to costs estimated at "as much as $20,000 per second for major VFX work, like adding a dragon or superhero, not to mention days' worth of technical labor," TechCrunch estimates prominent VFX and CGI characters are beyond reach for most indie films.
Wonder Studio aims to make the process "as simple as selecting a filter or brush in Photoshop," TechCrunch writes. The company's website features several demos. "We built something that automates this whole process, animates it live, frame by frame, there's no need for mocap," Todorovic explained, pointing out that "it automatically detects actors based on a single camera. It does camera motion, lighting, color, replaces the actor fully with CG."
The program uses artificial intelligence to facilitate the process step-by-step, but the model is not trained on existing artist-produced work, Todorovic said, noting "you get mocap, clean plate, masks, blender scene, it analyzes the noise and grain." Animation and motion data as well as 3D representations of the environment are all matched automatically and the resulting shots can be to tracked with multiple angles.
Wonder Studio comes with some prefabricated characters suitable for previs and custom models can also be purchased.
"The system automates 80 percent to 90 percent of the 'objective,' frame-by-frame VFX work and leaves the artist with the remaining 'subjective' work," which can be exported into existing popular programs, including Autodesk Maya, Blender, Unreal Engine and Nuke, the company says in its announcement. No special production hardware or equipment is needed to use Wonder Studio to produce VFX and CGI elements "faster and at a significantly lower price point."
Topics:
3D Model
,
Adobe
,
Animation
,
Artificial Intelligence
,
Autodesk Maya
,
Blender
,
CGI
,
Character Animation
,
Compositing
,
Filmmaking
,
Hollywood
,
Motion Capture
,
Nikola Todorovic
,
NUKE
,
Photoshop
,
Production
,
Ready Player One
,
Steven Spielberg
,
Tye Sheridan
,
Unreal Engine
,
VFX
,
Wonder Dynamics
,
Wonder Studio