Streaming video is in high demand, as millions of people sheltering at home seek entertainment. According to a poll of 2,000 people by The Wall Street Journal and the Harris Poll, Americans spent $37 per month on streaming services in March, up from the $30 they spent in November. Amazon Studios chief operating officer Albert Cheng calls the rising metrics "jaw-dropping." The Walt Disney Company is also experiencing a bump, with its Disney+ signing up 50 million global subscribers within five months of launching. However, existing and emerging services face a mounting recession and delayed productions.
WSJ reports that Disney originally predicted that Disney+ would have between 60 million and 90 million subscribers by end of fiscal 2024. But Netflix, Disney+, Apple TV+ and "soon-to-debut services" HBO Max and NBCUniversal's Peacock will soon find themselves challenged to provide enough content to satisfy entertainment-hungry consumers. Companies with "deep libraries of older programming" have an advantage and "programming that doesn't require big sets in public places — animation, for example — will be easier to produce."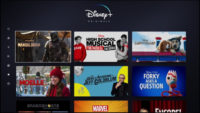 ITV America chief executive David George noted that Amazon Prime Video has "caches of original content and may be better prepared to endure this period," and Netflix has "a content pipeline that probably takes them to the end of the year."
Wells Fargo analyst Steven Cahall noted that if Apple TV can't produce new originals, "it's tough to see where the subscribers would come from … [whereas] even if Disney had no new content for a year, subscribers will come on just for the existing library."
"You are going to see a lot of changes in our industry after this," predicted Sony Pictures Television Studios president Jeff Frost.
Streaming services will also be impacted by the expected recession. According to a survey by S&P Global Market Intelligence unit Kagan, "some 37 percent of streaming households would drop a subscription if they lost their job during the pandemic."
"I do think it will stunt the growth of the new services," said former Twentieth Century Fox Television president Gary Newman. AT&T's president/chief operating officer John Stankey admitted that, "the $14.99 a month HBO Max service will be forced to launch without some programming it hoped to have, and that additional productions will be delayed for several months."
Likewise, "NBCUniversal's Peacock is also going to debut without some of its most-anticipated original programming … [and] the second season of Apple TV+'s most popular program, 'The Morning Show' … is on hold."
Although production of all content is on hold, "development of story ideas and scripts continues at a brisk place through Zoom videoconferences … [and] postproduction houses where editing is done after filming is complete have retooled to adapt to the situation."
Animation is one sector that is moving forward, said Wow! Unlimited Media chief executive Michael Hirsh, who noted that, "artists and modelers can work at home." In fact, "The Simpsons" is currently producing new original episodes, and WSJ notes that, "unscripted programming — reality TV and documentaries — may fill the original content void after production resumes because it is often quicker to turn around."
Topics:
Albert Cheng
,
Amazon Prime Video
,
Amazon Studios
,
Apple TV Plus
,
AT&T
,
David George
,
Disney Plus
,
Gary Newman
,
Harris Poll
,
HBO Max
,
ITV America
,
Jeff Frost
,
John Stankey
,
Kagan
,
Michael Hirsh
,
NBCUniversal
,
Netflix
,
Peacock
,
Sony Pictures Television Studios
,
Steven Cahall
,
Streaming
,
The Wall Street Journal
,
Twentieth Century Fox Television
,
Wells Fargo
,
Wow! Unlimited Media
,
Zoom