Walmart has planted its flag in the metaverse, launching Walmart Land and Walmart's Universe of Play on Roblox, a virtual worlds game platform that emphasizes user-generated content. Roblox community members can check out the Walmart "isles" to collect "verch," or virtual merchandise, "catch top music artists and unlock exclusive interactive content," the company says. "Roblox is one of the fastest growing and largest platforms in the metaverse, and we know our customers are spending loads of time there," Walmart CMO William White said, citing the platform's 52 million daily active users.
"Walmart is experimenting with new ways to reach shoppers, particularly after seeing the pandemic shake up shopping habits and fuel consumers' engagement with social media, apps and gaming websites," writes CNBC, couching the move as a way to connect with younger consumers.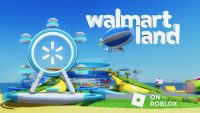 Walmart is already "in the communities where they live," and now wants to be in  the virtual worlds where they play," White said in a corporate announcement for the Roblox build-out, which went live Monday.
Walmart Land launches with three immersive experiences, including House of Style, centered on a virtual dressing room. Two other Walmart Land virtual destinations, Electric Island and Electric Fest, are music-themed — with Electric Island more of a casual environment with trivia games and a DJ booth, while the latter features motion-capture concerts.
Walmart's Universe of Play will let Roblox users "explore different toy worlds to earn coins for cool virtual goods, or complete epic challenges to build a personal trophy case, unlock secret codes and more." Universe of Play includes five immersive games that feature products and characters from "Jurassic World," "Paw Patrol," and various toy lines.
Users can play to collect virtual toys dropping from a Walmart blimp and earn coins redeemable for avatar verch. E-mobility items like hoverboards and a Sharper Image drone will also be part of the Walmart Universe of Play experience.
White said "the company will use Roblox as a testing ground, as it considers other moves in the metaverse and beyond," reports CNBC, adding that "the retailer is experimenting with other ways to reach shoppers, including shoppable recipes, live-streaming events and an augmented reality feature for furniture."
Walmart "quietly filed for metaverse-related trademarks earlier this year," CNBC says, explaining that "some of the trademarks indicated interest in making or selling virtual goods and offering users virtual currency, as well as non-fungible tokens or NFTs."
Walmart's metaverse experiences "can be played on any device, such as PC, Mac, iOS, Android, Amazon devices, Xbox, Oculus Rift and HTC Vive," TechCrunch reports.