With the launch of Vevo TV — a 24-hour live stream of curated programming — Vevo has taken an additional step toward becoming a full-fledged music television network. The new channel uses MTV-like VJs and is available on the Web and mobile devices, as well as via Roku boxes and Xbox 360 gaming consoles. Looking ahead, the company hopes to take Vevo TV to cable distributors and have it compete with the likes of MTV and VH1.
According to tech journalist Janko Roettgers, writing for paidContent, Vevo is "also thinking about launching genre-specific live streams. Think Vevo Hip Hop, for example. But ultimately, going live is all about devices and the way they're changing how we watch TV."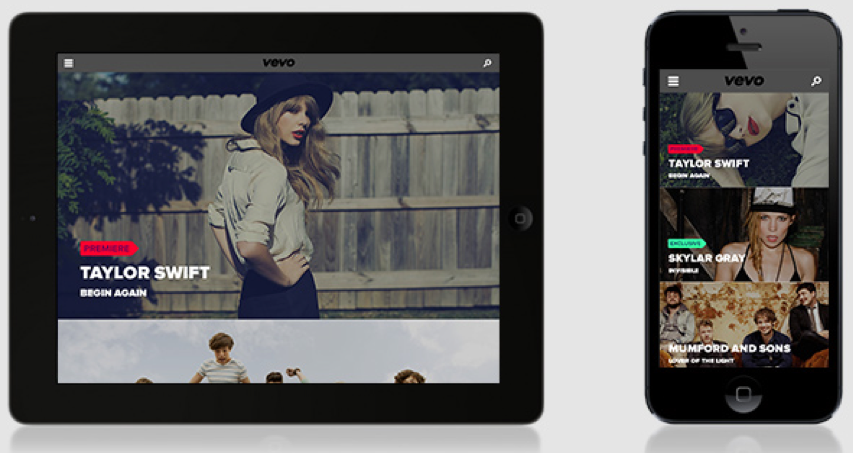 "Continuous playback combined with curation makes a whole lot of sense for something like music videos on connected TVs," notes Roettgers. "Users don't want to pick up their remote control to pick and choose every single video, but instead want something up and running in the background without interruption."
"And if a viewer is ever bored by what's playing on Vevo TV's live stream, then there's always tons of on-demand content available right within the same app," he explains. "It's the best of both worlds."
"What we found was, there's a class of viewer that wants more choice still but doesn't want the work," said Michael Cerda, SVP product and technology for Vevo, at a bar in Austin, Texas during South by Southwest. "Part of the thesis is the millennials, who were never programmed for; they were born on the Internet. They have a paradox of choice, and there's too much for them."
The lure of also being made available via set-top boxes is the cable-sized ad-budgets. With the programming potentially available via cable systems and connected devices, it may seem like Vevo TV would compete with itself, but Roettgers suggests that "the distinctions between streaming and cable distribution are going to become less and less visible to consumers."
"In that world, a live TV channel — distributed on as many platforms as possible — will guarantee that consumers will always access to Vevo, no matter whether they're streaming or viewing plain old TV," writes Roettgers. "And that's a smart move."
Vevo (which is a joint venture from Sony Music Entertainment, Universal Music Group and Abu Dhabi Media) may have another goal in mind: to break its reliance on video site YouTube.
"The two partners have done some highly public negotiating of late, but Vevo is still viewed as YouTube's default music service online," notes Adweek in a related article.
"This lets us take back some ownership," said Cerda.