The third annual Hollywood Hack Day took place last weekend, bringing a hackathon — a timed collaborative event during which software developers create new apps or Web services — to Los Angeles. United Talent Agency hosted the event and provided increased bandwidth for the 135 developers and designers involved in the 2-day competition. Because the event was in LA, several teams chose to create apps about the art and business of entertainment.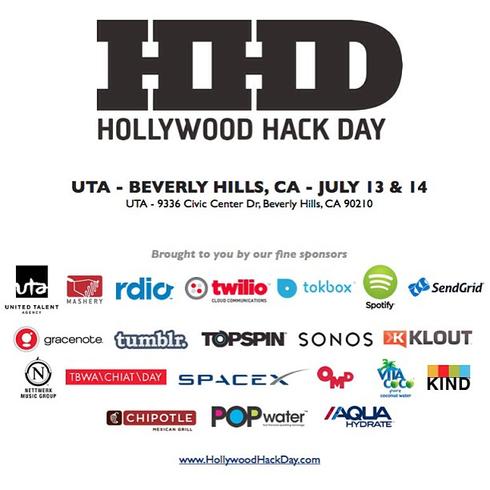 This event was different from other hackathons in that it emphasized the business presentation of the attendees' end products, according to The Hollywood Reporter. Mentors were also present to assist the programmers in sales pitches.
"Tech people are often working on solutions that Hollywood doesn't [need]," says Rahim Sonawalla, a partner at Beats Music who founded Hollywood Hack Day. "While the Hollywood system has problems they want people to help solve."
The grand prize of $2,000 went to Travis Chen, creative director at the mobile gaming company Scopley. His "gogololow" project is a mobile app that uses motion sensors to allow users to compete with friends in physical challenges in real-time. Chen also won last year's HHD with his "Typing Karaoke" game.
The second prize of $1,000 was awarded to a San Francisco-based team that created Levers Hollywood, which uses an algorithm to predict opening weekend box office grosses. The program was only 9.27 percent off the actual opening take for "Life of Pi" and 3.84 percent off for 2009's "Star Trek," notes THR.
There were several apps designed to make creating video and music easier. MashTrax, a Web browser based audio editor, received audience applause for its ease of use. Also popular was Artistsear.ch, a website builder specifically for musicians that uses and collects metadata, media and other information.
SpotiCLI, a command-line, or DOS-like, program, received API sponsored prizes from Spotify and SendGrid. It allows users to access Spotify with a command-line interface.
A full list of the 35 projects is available on the Hacker League site.
Topics:
App
,
Beats Music
,
Business
,
Code
,
Coding
,
Developer
,
Entertainment
,
Hackathon
,
Hacking
,
HHD
,
Hollywood
,
Hollywood Hack Day
,
Industry
,
LA
,
Levers Hollywood
,
Los Angeles
,
MashTrax
,
Mobile
,
Programmer
,
Programming
,
San Francisco
,
SendGrid
,
SpotiCLI
,
Spotify
,
Startup
,
United Talent Agency
,
UTA