USC Viterbi School of Engineering's Center for Cyber-Physical Systems and the Internet of Things (CCI) is hosting the second International Symposium on Foundations and Applications of Blockchain (FAB 2019). The event will take place on Friday, April 5, 7:00 am – 8:00 pm at USC. This one-day symposium builds on the previous success of FAB 2018, attended by close to a hundred participants and featuring presentations by distinguished speakers from academia and industry. To register, visit the symposium's Eventbrite page.
Blockchain — the technology behind Bitcoin, Ethereum and many other cryptocurrencies — is flourishing into an impressive spectrum of research projects and initiatives, corporate alliances, and startup companies. This multidisciplinary effort spans diverse disciplines ranging from Computer Science and Engineering to Communications, Social Sciences, Public Policy, Banking and Finance, Journalism, and Political Sciences to name a few.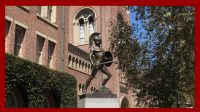 The day's schedule of presentations and tech sessions is available online.
FAB 2019
Friday, April 5, 2019
7:00 am – 8:00 pm
Location:
Hughes Aircraft Electrical Engineering
3740 McClintock Avenue
EEB 132
Los Angeles, CA 90089