Immersive technology was all the rage as wide screens took over cinema in the 1950s. Its impact was made real again in three manufacturers' booths at the 2014 International Consumer Electronics Show. Samsung, LG and Hitachi all showed impressive 105-inch diagonal, "5K" displays. The immense curved screens, featuring an ultra-wide 21:9 aspect ratio, are the first of their kind to present movies this close to their native cinematic format.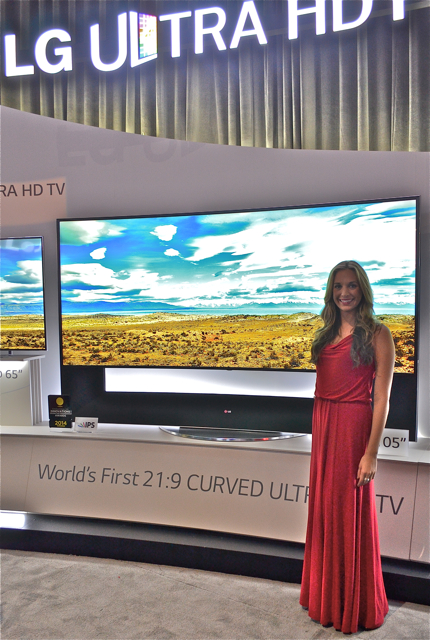 LG showed a 105-inch, curved Ultra HD TV with a 5K resolution of 5120×2160 at an MSRP of $70,000. The company opted for an LCD panel rather than the OLEDs more commonly used for curved screens.
"In order to realize the TV's curvature, new technology was introduced to resolve a number of issues, such as maintaining structural integrity and delivering uniform color and brightness across such a large screen," explains the press release.
"Until now, OLED panels were preferred for curved displays due to their ability to generate their own light. LG Display overcame the challenge of uneven backlighting by refining its Thin Film Transistor (TFT) pixel circuit technology to prevent color leakage and to ensure a superior viewing experience from virtually any angle."
Samsung countered with its own 105-inch, curved, UHD LCD TV that also offers 11 million pixels and features an ultra-wide 21:9 aspect ratio that takes full advantage of the size and curvature of the set.
The ratio is more akin to CinemaScope, which makes the LG and Samsung offerings more a movie theater screen than a traditional TV.
Hitachi, surprisingly, also showed a technology example of a beautiful 105-inch, 21:9 screen.
The excitement generated at the show caused LG to actually announce the commercial availability of its screen. It is expected that many of the new curved sets will make it into the marketplace.
What's old is not only new again, but it still wows.
Topics:
21:9
,
4K
,
5K
,
Aspect
,
Brightness
,
CEA
,
CES
,
Cinema
,
CinemaScope
,
Color
,
Consumer
,
Curvature
,
Curved
,
Display
,
Electronics
,
Film
,
HD
,
Hitachi
,
Immersive
,
Las Vegas
,
LCD
,
LG
,
Model
,
Movie
,
OLED
,
Panel
,
Pixel
,
Ratio
,
Resolution
,
Samsung
,
Screen
,
Show
,
Television
,
TFT
,
TV
,
UHD
,
Ultra
,
Ultra HD
,
Ultra-Wide
,
Wide