Nielsen, long the dominant player in audience measurement data for media companies and advertisers, now has competition. Recently, comScore, which measures consumer Web activity, made an all-stock purchase of Rentrak, which monitors set-top box data for information on consumers' TV viewing habits. Nielsen, however, countered with its "total audience measurement tool," which is slated to roll out by the end of 2015. Nielsen has been criticized as being slow to address media consumed on digital platforms.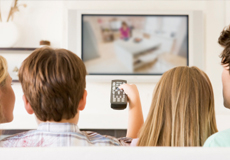 According to The Wall Street Journal, the three companies sparred at a recent Advertising Week panel. Nielsen global president Steve Hasker announced that his company will roll out its new tool before regulators approve the comScore/Rentrak deal, and Rentrak chief executive Bill Livek countered that Nielsen "is not the only currency. Please."
The dust-up, says WSJ, shows "just how heated the measurement space has become in media."
Nielsen describes its new total audience tool as an apples-to-apples way of measuring audiences across all platforms, and announced that CBS will start including it in its TV ratings. The total audience tool will have to convince media executives that it can cover all digital platforms, which is not a small feat.
Variety reports that CBS chief executive Leslie Moonves recently said that, "Nielsen ratings measuring overnight viewing are of less value to TV networks because they do not count the growing audience that watches TV programs days after their on-air debut."
Likewise, Martin Sorrell, chief executive of U.K.-based advertising conglomerate WPP, is bullish on what the combined comScore/Rentrak could offer, and expressed the need for "a better mousetrap." Viacom chief executive Philippe Dauman has stated that he expects the company "to generate significantly more advertising revenue from deals that are not based on Nielsen ratings."
According to WSJ, Nielsen's revenue last year was $6.3 billion, compared to comScore's $329 million and Rentrak's $103 million.
Topics:
Ad Revenue
,
Advertising
,
Advertising Week
,
Audience Measurement
,
Bill Livek
,
CBS
,
Comscore
,
Digital Ratings
,
Leslie Moonves
,
Martin Sorrell
,
Metrics
,
Nielsen
,
Philippe Dauman
,
Ratings
,
Rentrak
,
Set-Top Box
,
STB
,
Steve Hasker
,
Television
,
Total Audience Measurement
,
TV Ratings
,
TV Shows
,
United Kingdom
,
Viacom
,
WPP