Industry analyst Tim Bajarin offers his perspective on the leading tech trends we can expect in the coming year. Bajarin, who has been writing an end-of-the-year prediction column for 23 years (and says he has been "reasonably successful"), predicts some interesting developments, including: Augmented Reality going mainstream, increased consumer attention for Google's Chromebook, a new interest in hybrids and convertibles from IT managers, a dramatic increase in mobile malware, and more.
1) Augmented Reality will go mainstream: "Companies like Zappar and Aurasma have some great technology that adds an augmented reality (AR) layer to published content, posters, and physical places," writes Bajarin for PCMag.com. "AR technology has been in the works for many years, but the demos I have seen from these two companies convince me that 2013 will be its breakout year in the mobile world. More importantly, many of these AR companies have fostered great relationships with movie studios, game makers, and publishers and their technology is already showing up in many products."
2) Google's Chromebook will get more consumer attention and Chrome laptops will gain traction: Acer and Samsung Chromebooks priced around $250 will become more attractive for consumers with the proliferation of public Wi-Fi. Chromebooks will also be a good first step toward HTML Web browsers as operating systems.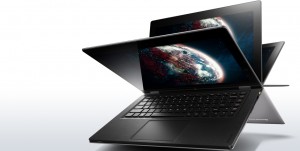 3) Hybrids and convertibles will get high interest in IT: Laptop and tablet combo devices will become popular with IT managers who no longer want to support three devices (PCs, tablets, and smartphones). "The first generation of these products, including Lenovo's Yoga, HP's EliteBook 2740p, and Dell's Inspiron Duo, are being bought in large numbers by IT types who are starting to test them inside their organizations."
4) Mobile malware will be up 100 percent on consumer devices: As mobile devices surpass the number of PCs shipped each year, they'll become targets for malware, especially since "these devices are tied much more closely to personal identities and personal information than PCs."
5) Apple will jump on the hybrid bandwagon: As Android and Windows industry segments move to create tablet/laptop combo devices, Apple may need to respond the way it did with the 7-inch tablet. "But imagine a sleek hybrid, perhaps with the design lines of the MacBook Air, with an iPad screen that detaches from its ultrathin keyboard. The iPad Air, maybe."
6) Seven-inch tablets will dominate tablet sales: Bajarin suggests that it is fairly evident 7-inch tablets in the $79-$199 range will dominate the market in 2013. "What is not obvious, though, is how they will impact the PC market." For many, the 10-inch tablet has become almost a mini-laptop, but if consumers adopt 7-inch tablets on a larger scale, they may go back to purchasing new laptops. "I believe that next year, consumers will sort out which size tablet is best for them and, in doing so, will finally determine the role the PC will play in their computing future," he writes.