The new invite-only social network "This" lets users share one link per day of a stand-out Internet post, such as a compelling article or a podcast episode or a video. Rather than inundating the community with a flood of posts (a common model of other social networks), users on This only get the best-of-the-best on the Web. As a result, tech types and news junkies are clamoring for an invite. The new social network is a project of Atlantic Media and Andrew Golis. It is less than three months old and currently has about 4,500 users.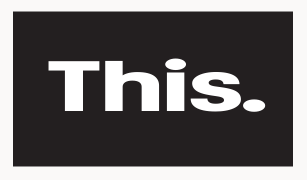 This is still in beta, so new users must be invited by one of the current users. The simplicity of the site is what has people clamoring for an invite. Users can only post one link per day, follow other members, and click "Thanks" to endorse the link (similar to a Facebook "Like"). There is no internal messaging system.
Every weeknight, This creator Andrew Golis sends out an email newsletter that highlights five of the best links. Links that have recently gone viral on This include an episode of the radio show "This American Life" about Internet trolls and a blog post about a slow motion video artist.
Golis told The New York Times, "The quality of entertainment, art, and journalism being published on the Web has never been higher, but the places we find and share links tend to value quantity over quality. By limiting each user to sharing just a link a day, we give curators the ability to make something as special and their audience the ability to find just the best from those curators they trust."
Topics:
Andrew Golis
,
Art
,
Atlantic Media
,
Beta
,
Blog Post
,
Entertainment
,
Facebook
,
Follow
,
Internet
,
Invite
,
Journalism
,
Likes
,
Limit
,
Messaging
,
News
,
Newsletter
,
Online
,
Podcast
,
Radio
,
Share
,
Social Media
,
Social Network
,
Thanks
,
This American Life
,
This.
,
This.cm
,
Video
,
Web