Tencent's nearly two-decade growth trajectory came to a halt Wednesday with a 3 percent revenue drop over the same period in 2021. The contraction marked the Chinese video game and social media giant's first quarterly revenue decline since going public in 2004. Tencent's April-June revenue fell by about $20 billion, the result of China's slowing economy and sagging digital advertising revenue, as well as tighter government video game regulations and diminished consumer user spending. Prior to Q4 2021, Tencent had consistently posted double-digit — and sometimes triple-digit — growth since its IPO.
"Tencent's contraction, coming after rival Alibaba Group Holding Ltd. announced its first revenue drop — though slim, at 0.1 percent — for the same quarter, contrasts with a period of inexorable growth for the two leading Internet companies in the world's second-biggest economy," The Wall Street Journal reports.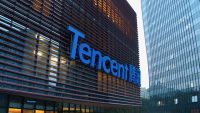 China's tech sector has been grappling with the effects of COVID-19 shutdowns that "paralyzed business activities in many cities," WSJ writes, noting that the April-June quarter marked the Chinese economy's weakest growth rate in over two years.
"Tencent's revenue from its bread-and-butter video game business fell 1 percent from a year earlier," per WSJ. Tencent wholly owns Riot Games, holds 40 percent of Epic Games, a 5 percent stake in Activision Blizzard and an undisclosed piece of Roblox, according to Polygon.
It also owns Chinese messaging service WeChat, with more than 1.2 billion monthly active users, and the web portal QQ.com, the fourth most-visited website globally. Tencent Music controls the majority of China's music platforms, claiming 841 million MAUs.
In its local market, "the world's biggest video game developer also continued to grapple with a delay in the government's approval of new titles, as well as a policy introduced last year severely restricting young people's game play time," WSJ writes, noting that in China, where regulatory approval is required for games to charge users, "after eight months of freezing approvals, government licensing resumed in April," but neither Tencent nor rival NetEase had games among the four groups of titles approved.
Tencent's online advertising revenue declined for the third straight quarter, falling 18 percent, to roughly $2.7 billion "as many companies in sectors such as Internet services, education and finance cut back on advertising spending as they faced regulatory fallout and growing economic uncertainties," per WSJ.
To offset the drops, Tencent has pulled back on noncore businesses and cut costs, including layoffs, reducing its employee headcount by about 5,500 (to around 110,000), its first staff contraction since 2014, chairman and CEO Ma Huateng (known as Pony Ma) shared with investors.
Tencent expects advertising in its WeChat short-form video service, called video accounts, to become a "substantial" revenue source in the years to come." In July, Tencent began serving ads to video account users, CNBC reports, writing that "Tencent's focus on this ad product puts it in competition with ByteDance's Douyin, the Chinese cousin of TikTok as well as Kuaishou — the country's two leading short video players."