The Entertainment Technology Center presented longtime Warner Bros. exec Chuck Dages with the Bob Lambert Technology Leadership Award during an industry gathering at USC's Town & Gown Wednesday evening. The event also celebrated the first 20 years of ETC@USC and featured a studio technology leaders panel, during which execs discussed production and distribution challenges emerging from an evolving digital landscape.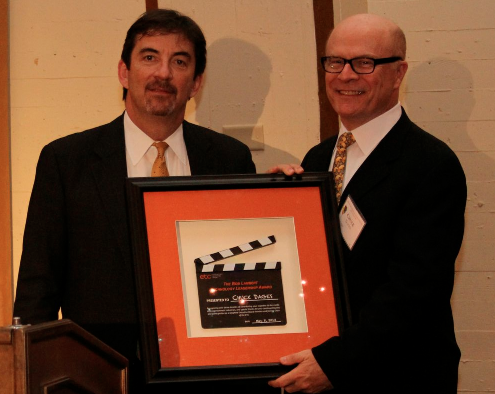 Technology leadership of every major studio and network was represented at the event.
Following an outdoor cocktail reception, guests made their way inside Town & Gown where ETC's executive director & CEO Ken Williams and Dean Elizabeth Daley of the USC School of Cinematic Arts provided opening remarks.
In commemoration of the 20th anniversary of ETC@USC, Williams presented a timeline that highlighted the organization's many industry initiatives and contributions to entertainment media — including a neutral testing center for Digital Cinema, creation of the Anytime/Anywhere Content Lab and the Consumer 3D Experience Lab, pursuit of digital distribution standards through the Interoperable Master Format project, and a framework for cloud-based production, amongst others.
He then introduced the Technology Leadership Award, recently named in memory of former Disney exec and ETC chairman emeritus Bob Lambert.
The award recognizes individuals who have successfully contributed to ETC inter-industry projects and have been instrumental in shaping the future of entertainment technologies. Williams noted that Dages, who spearheaded a wide range of transformational tech initiatives during his tenure at Warner Bros. and has been a key figure in helping ETC move forward, was an obvious choice for the award.
David Wertheimer — president, digital at Fox and former CEO of ETC — joined Williams at the podium to offer his personal observations of Lambert and Dages, while detailing how both men were vital to ETC serving as a center for thought leaders to come together and explore new opportunities.
Since Dages helped launch a tapeless facility that brought the website TMZ.com to television — a humorous, heartfelt tribute video framed as a TMZ episode with host Harvey Levin was screened. Dages then took the stage, delivering a gracious and uplifting speech, during which he recognized the many wonderful people and unique opportunities that he will remember from his time in Hollywood.
He also noted that the leaders in the room would be responsible for shaping the near future of entertainment media, a period he expects will be tremendously exciting and filled with possibilities.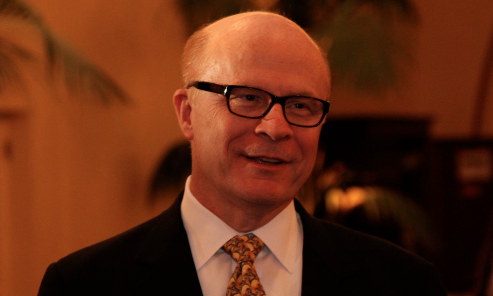 "The people in this room hold the keys to how our business will stay viable by finding ways to distribute content to consumers at a cost that makes it profitable for us in the industry," said Dages. "That is a huge opportunity, to remake an industry that is 120 years old and take it into the next century."
Dages, who recently retired from his Warner Bros. post, said he is looking forward to watching from the sidelines as the tech community tackles such challenges. He also plans to continue with his active participation in The President's Emergency Plan for AIDS Relief (PEPFAR).
The evening concluded with a studio technology leaders panel, moderated by Williams, that included panelists Vince Roberts, EVP global operations & CTO of the Disney/ABC Television Group; Joseph Cates, CTO of Universal Pictures; Wendy Aylsworth, SVP technology at Warner Bros.; Hanno Basse, CTO of Fox Filmed Entertainment; Spencer Stephens, CTO of Sony Pictures Entertainment; and Craig German, EVP worldwide technical operations for Paramount Pictures.