If Apple, Google, Facebook and Microsoft attain their goal, more of us will soon have our first experiences with augmented reality. These tech behemoths are hiring the talent and spending the money to make it a reality, with the hope that AR headsets will become lighter and sleeker — maybe even contact lenses. The experts note that all of our Internet-connected devices (IoT), paired with the cloud and AI, will dramatically "unlock the spaces around us." But the potential applications also raise a number of potential privacy issues.
The Wall Street Journal quotes Magic Leap chief exec Rony Abovitz as stating that, "the whole surface of the world is actually going to be a place you can broadcast." The potential scenarios are endless: a user making dinner can keep track of how long the pasta has to cook, while perusing "suggested pairing from your connected wine fridge and an alert from your Peloton bike about how to burn off all those carbs."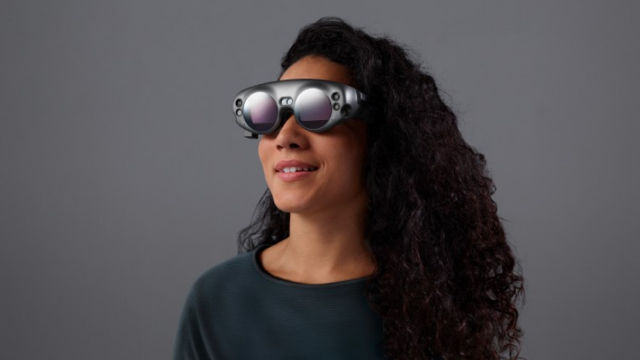 A more dystopian point of view suggests that fake information could dominate everything in the user's view. "You are always worried about bad actors with technology and your data," said Omidyar Network vice president Paula Goldman. "With AR, it is incredibly scary: the kind of data that can be collected, how you react to what you're seeing, deep psychological data."
With Magic Leap's Avatar Chat, the user sees a floating virtual head that Abovitz stated could someday be "your coach, your professor of physics, a life coach that tells you to stop eating those chocolates and go hiking." Magic Leap's MICA project is looking at how to personify AI and "bring it into our physical spaces," while also developing Princess Leia-like holograms for entertainment.
Startup 8i is developing another entertainment application in which 3D videos of performers are captured in their volumetric studios and the results can then be distributed to the home.
In the business sector, Japan Airlines is experimenting with HoloLens to repair Rolls-Royce plane engines, by connecting a HoloLens-equipped worker to a Rolls-Royce engineer in another location. The University of Central Florida may soon use HoloLens to train emergency responders, by simulating the chaos surrounding them. American Airlines has a prototype iPhone app that uses digital markers to guide people to their gates. Google's Lens, which uses computer recognition to identify objects, could display a restaurants menu and prices by simply pointing it at a restaurant sign.
Topics:
3D
,
American Airlines
,
Apple
,
AR Headset
,
Artificial Intelligence
,
Augmented Reality
,
Avatar Chat
,
Cloud
,
Facebook
,
Google
,
Google Lens
,
HoloLens
,
IoT
,
Japan Airlines
,
Magic Leap
,
MICA
,
Microsoft
,
Omidyar Network
,
Paula Goldman
,
Privacy
,
Rolls-Royce
,
Rony Abovitz
,
University of Central Florida
,
Video
,
Volumetric Capture