The VR, AR and Robotics Pitch Competition at CES in Las Vegas included three drone-related entertainment tech startups. The Fotokite, from Zurich-based Perspective Robotics, is a tethered drone camera system. The $249 consumer version unfolds from an easy-carry tube and flies like a kite, but unlike a kite it works to maintain its position and camera angle relative to the handheld 'kite' tether. Dotterel "takes the drone out of drones" with technology that was developed to make it possible to record audio from a drone without the loud background buzz. And Boxfish Research showed a simple-to-operate submarine ROV with two universal camera mounts for capturing 360-degree video.
The Fotokite is fast and flexible enough to follow a professional skier downhill. Perspective Robotics CEO Christopher McCall quipped that unlike other drones, when you turn around at the bottom of the slope, you know it will be there.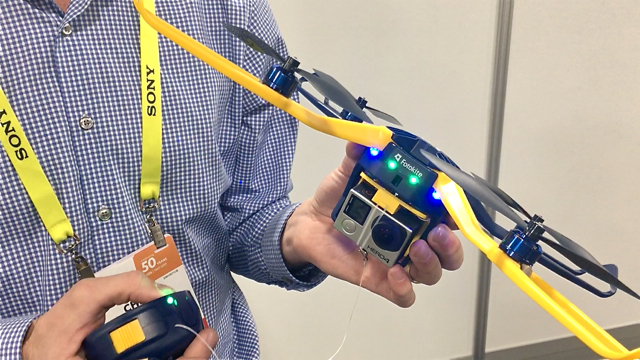 You can dynamically control its position and camera angle through simple hand motions of the tether reel (similar to a Wii controller with a fishing reel). The commercial version sends power up the tether so the drone can stay aloft 24/7 and stream a live 1080p uncompressed signal down to a ground station. Designed for broadcast customers, it is the only FAA-approved drone for filming over crowds.
Dotterel's technology has three components: a cylindrical acoustic shroud around the blade that soaks up sound in the speech frequencies and directs sound up and away from the microphone, specially designed propellers that are low noise, and active audio filtering technology.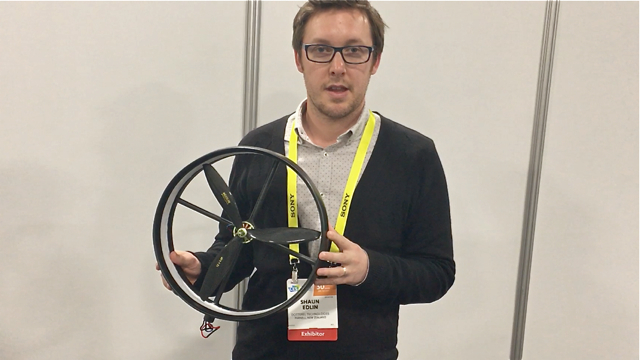 The New Zealand company's target market is cinematographers and sound engineers. They won the Most Innovative Product Award at NAB 2016. They don't make the drones; they license the technology, and they were at CES 2017 talking to manufacturers and investors.
The Boxfish ROV can operate down to 3,000 feet as it sends an uncompressed video signal to the surface. CEO Axel Busch claims that this, along with Boxfish's other products, are designed to speed up production workflow and reduce production costs. This unit sells for around $50,000. Their competition costs $200,000 – $1,000,000. Boxfish is based in Auckland, New Zealand.
There were 10 startups competing for a prize worth over $100,000 at the Pitch Competition. Fotokite won.
Topics:
1080p
,
360 Video
,
Audio
,
Augmented Reality
,
Axel Busch
,
Boxfish Research
,
Broadcast
,
Camera
,
CES 2017
,
Christopher McCall
,
Cinematography
,
Drone
,
FAA
,
Fotokite
,
Kite
,
Microphone
,
Movie
,
NAB
,
New Zealand
,
Nintendo Wii
,
Perspective Robotics
,
Production
,
Propellers
,
Robotics
,
ROV
,
Sound Engineers
,
Sports
,
Streaming
,
Submarine
,
Television
,
UAV
,
Video
,
Virtual Reality
,
Zurich