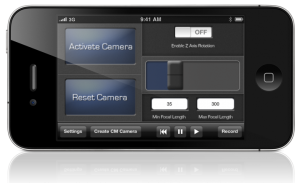 Wes McDermott ("the 3D Ninja") has released version 1.0.2 of his app for creating handheld camera animations in Autodesk Maya 3D software. CameraMan for Maya is an interesting new utility app for the iPhone 4, iPod touch and iPad 2 (currently available for $1.99 on iTunes).
The app uses the Apple devices' gyroscope hardware as a motion capture device to control X, Y and Z rotations of the camera. It enables users to adjust the focal length with a slider, record animation, and provides Maya timeline playback controls. The 3D Ninja Blog features a helpful 29-minute video tutorial.
Requirements (according to the CameraMan for Maya iTunes page): Compatible with iPhone 4, iPod touch (4th generation), iPad 2 Wi-Fi, and iPad 2 Wi-Fi + 3G. Requires iOS 4.1 or later.