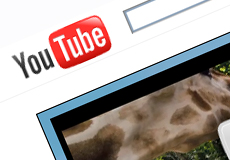 YouTube added several new tools for video creators this week, as part of its "ongoing goal to foster the creation of great video content," explains the company's Broadcasting Ourselves blog.
The first tool, currently in beta, converts 2D video content into 3D. YouTube admits you'll get better results with a 3D camera, but this is at least an option for those without one.
Second, you can now upload videos longer than the current 15-minute limit allows, and the advanced uploader is no longer required for larger files. However, the feature is restricted to users with "a clean track record who complete an account verification and continue to follow the copyright rules set forth in our Community Guidelines."
Finally, YouTube gives creators the ability to add effects and text using Vlix, and adds Magisto, which will automatically take your unedited video and create a short clip complete with music.