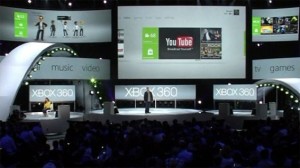 The 3-day Electronic Entertainment Expo (E3) kicks off today at the Los Angeles Convention Center. E3 is a professional trade event with a focus on electronic gaming (no longer open to the general public) that draws CE manufacturers, business partners, news media and industry analysts from 80 countries. Yesterday's pre-show press events featured some interesting announcements from Sony and Microsoft. Today, the big news should come from Nintendo, when it unveils its next-gen Wii console (watch it live starting at 9:00 AM PDT).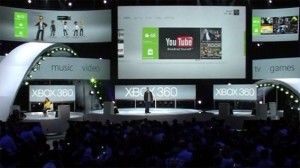 Microsoft began by introducing new Xbox 360 features and games (Microsoft has sold 55 million Xbox 360s globally to-date, thanks in part to the successful Kinect motion sensor technology). Next up: voice-activated search via Bing will be available for the Xbox enabling users to sort through Netflix, Hulu Plus, YouTube and other sites via voice commands, minimizing the need for the remote control. "You no longer have to navigate through the menus to find content," said Mark Whitten, corporate VP of Xbox Live.
Whitten also announced that the Xbox will incorporate a live TV service in the fall. Few details were offered, other than to say that more content partners will soon be added. For the gamers, Microsoft premiered the trailer for the next installment of the Halo video game series, which expects a 2012 release (Gamespot has the trailer plus an interesting commentary). Microsoft also demonstrated new games and innovations utilizing its Kinect technology.
Sony began its Monday evening press conference with an apology to customers, video game developers and retailers regarding the recent hacker attacks that hit 70 million user accounts. Jack Tretton, CEO of Sony Computer Entertainment America, explained that activity on the PlayStation Network is now back up to 90 percent from what it was prior to the data breach.
Tretton also discussed the PlayStation's growing success as the leading Netflix streamer (according to Sony, the PS3 accounts for 30 percent of video streamed via the service). Engadget reports this should come as no surprise: "…consoles far outpace other TV connected streamers in install base, and between the Xbox 360, Wii, and Sony's box, the PS3 is the only one that lets you watch without an additional subscription and in HD." In addition to the Netflix news, Sony announced a new partnership that will provide access via the PS3 to more than 12,000 video on-demand movies and TV shows from Best Buy-owned CinemaNow.
Sony also showcased a collection of 3D products and games, including an interesting new product bundle that features a 24-inch active shutter 3D display and 3D glasses. Engadget noted in its initial hands-on eval: "The dual-full-screen trick will only work with PlayStation 3 games specifically programmed to make use of the feature, and although none have been announced yet, we wouldn't be surprised if pack-in title Resistance 3 is compatible. Staff couldn't say if the games featured in the demo video, Motorstorm Apocalypse and Wipeout, would be updated to support this feature. While the demo units we saw performed their trick reasonably well, visible ghosting and flat, muted colors give us some reservations about that competitive $499 price tag."
Sony's biggest announcement, however, was its new handheld device, PSP follow-up the PlayStation Vita. Touting a 5-inch multitouch OLED display with rear touch pad (and front and rear cameras), the Vita will sell for $249.99 (Wi-Fi-only) and $299.99 (Wi-Fi/3G). Engadget was especially impressed with the "monstrous" OLED display and the dual analog sticks ("they completely blow away the original PSP's analog nub"). Both models will be available exclusively through AT&T toward the end of 2011.
Related Engadget post: "Microsoft sells 55 million Xbox 360 consoles, claims that's consoles history" (6/3/11)
Related CNET post: "E3 2011: Live TV coming to Xbox this fall" (6/6/11)
Related PC Magazine article: "E3: Sony Apologizes for Outage, Pitches 3D Display, PS Vita" (6/6/11)
Related Engadget post: "Sony's 24-inch PlayStation 3D display first hands-on!" (6/7/11)
Related Digital Trends article: "Sony 3D Display could revolutionize 2D gaming" (6/7/11)
Related Engadget post: "PS3 claims the lead in Netflix streaming, adds VOD from Best Buy's CinemaNow" (6/6/11)
Related Engadget update (with videos): "Sony's PlayStation Vita: a closer look (update: burning questions answered)" (6/7/11)
Related Engadget post: "Sony's PlayStation Vita official: $249 for WiFi, $299 for 3G" (6/6/11)
Related Engadget post: "Sony's PlayStation Vita: first hands-on impressions" (6/6/11)
Related Wired article: "With New Hardware Far Away, E3 Expo is Thin on Innovation" (6/3/11)