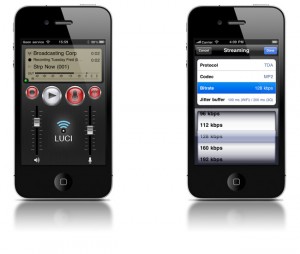 Netherlands-based Technica del Arte, maker of the LUCI series of broadcast software apps, recently announced that its popular Luci Live software is now available for Mac OSX Snow Leopard or higher (MSRP $450).
Luci Live turns mobile devices into portable recording studios, ideal for journalists who want to quickly record and edit video and audio content for HD streaming and live broadcasts. Macworld reports that TV and radio field reporters are using phones and laptops to cover events in locations such as Egypt, Japan, and Libya where traditional broadcasting techniques have recently been impacted by technical limitations.
As long as reporters have an Internet connection, Luci Live (also available in iPhone and Windows versions) is a viable solution.
Click here for more details regarding the $400 iPhone/iPad app.