FlickLaunch.com is a new startup billing itself as the first independent movie distribution platform built on top of Facebook. It was co-founded by Berkley entrepreneurs Craig Tanner and Erik Moore. Currently in beta, the service enables viewers to watch movies on Facebook and share with their friends.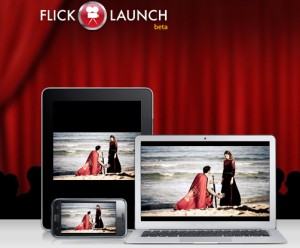 Filmmakers pay a $250 fee to set up a Facebook fan page that makes each film available, either for free to those who click the "Like" button — or for a rental price to generate revenue immediately. For example, a filmmaker can stream the movie to the first 1,000 viewers for free, hoping to generate buzz — and then if the film continues to prove popular via social networking, new viewers will pay a small fee ($1-$5) through PayPal for each 7-day rental.
Films can be viewed on a PC, mobile phone or tablet (the company is also working on Android, iPad and iPhone apps). The filmmakers keep 70 percent of the revenue while FlickLaunch keeps the other 30 percent.
The platform launches with the 720p streaming release of the urban crime thriller "Blues," written and directed by Brandon Sonnier and distributed by Level 33 Entertainment.
Related Hollywood Reporter article: "Startup FlickLaunch Debuts Movie Distribution Platform" (5/11/11)