U.S. audiences have been showing up at theaters to see summer blockbusters, a happy plot twist for an industry that saw the bottom fall out during the height of the COVID-19 pandemic. Films such as Paramount's "Top Gun: Maverick" and Universal's "Jurassic World Dominion" and "Minions: The Rise of Gru" have proven that despite the surge in streaming, audiences will trek out of the home for content that rises to the level of an event. "There's no question that we're coming back — in relevance, and in actual behavior," said Warner Bros. domestic distribution president Jeff Goldstein.
Comscore reports the summer box office has amassed roughly $3.03 billion in ticket sales through August 7 — more than twice last year's take, but still $600 million shy of the 2018 and 2019 tallies.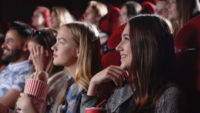 That's "just 17.5 percent behind 2019 (the last pre-pandemic popcorn season) and up 134.6 percent from the same period in 2021," reports Variety, adding Jordan Peele's UFO thriller "Nope" (Universal Pictures) and Marvel's "Thor: Love and Thunder" (distributed by Disney) to the list of hits that helped propel the numbers. But now there is a question as to whether there will be enough event-caliber films to continue the momentum.
"The coming film schedule is thin before superhero fare such as 'Black Adam' and 'Black Panther: Wakanda Forever' hit screens in the fall," The Wall Street Journal writes.
"After 'Bullet Train,' Sony's action flick starring Brad Pitt, hits theaters next week, the movie slate for August, September and October becomes desolate," says CNN, noting "it's hard to find any blockbusters in the mix. In fact, there aren't many films that could open beyond $50 million at the box office" until the new "Black Panther" movie debuts November 11.
Bob Bakish, CEO of Paramount Global told investors this month that his studio division had postponed a number of high-profile titles until consumer behavior changed. "We held off because we knew these phenomenal stories would bring audiences back to theaters. That proved to be the right call," Bakish said.
"By the end of the year, the 2022 box office will likely finish slightly higher than $7 billion, which would be about two-thirds of what could be expected in pre-pandemic times," WSJ writes, citing Goldstein's projection. "What the audience is clearly telling us is they love the big-screen experience, but not for every movie," Goldstein told WSJ.
Moviegoing joins a list of pre-pandemic experiences to which consumers seem to be returning to that includes concert-going, trips to gambling casinos and air travel, writes WSJ, noting the trend is not a moment too soon for studio executives, "especially as streaming growth in the U.S. stalls."
Related:
Tom Cruise May Have Just Saved Movie Theaters, TheStreet, 7/27/22
Why'd That Movie Disappear? Welcome to Streaming's Memory Hole Era, The Hollywood Reporter, 8/11/22
Are Movie Theaters Back in Business?, NPR, 7/23/22
Local Movie Theaters in NY Rethink Experience as Streaming Services Impact Business, NBC 4 New York, 8/9/22
Topics:
Black Adam
,
Black Panther
,
Blockbusters
,
Bob Bakish
,
Box Office
,
Brad Pitt
,
Bullet Train
,
Cinema
,
Comscore
,
Concerts
,
COVID-19
,
Disney
,
Gambling
,
Jeff Goldstein
,
Jordan Peele
,
Jurassic World Dominion
,
Marvel
,
Minions: The Rise of Gru
,
Movies
,
Nope
,
Paramount
,
Sony
,
Streaming
,
Studios
,
Theaters
,
Thor: Love and Thunder
,
Top Gun: Maverick
,
Universal
,
Warner Bros.