The chip shortage has highlighted the role of substrates that connect chips to circuit boards and the companies that make them. Substrate manufacturing offers low profit margins, so investment in this sector has also been low. Now, the lack of substrates has added to the problems of churning out enough chips to serve the global market. Substrates — panels of resin embedded with wiring onto which chips are affixed — connects the die at the heart of a chip to the motherboard, delivering power and data.
The Wall Street Journal reports that, "supplies of substrates used in some of the most advanced chips are particularly tight, and some industry specialists said they could remain in short supply for years."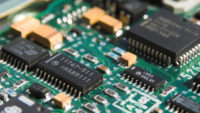 At Zhuhai Access Semiconductor, a substrate manufacturer, chief business development officer Nicholas Stukan said that, "right now, all you have to do is say you manufacture substrates, and you get business — it's insane."
Intel chief executive Pat Gelsinger, who mentioned the substrate shortage for the first time in an earnings call this year, expects "the chip crunch to last into 2023 as the chip industry, including substrate suppliers, boost capacity."
Semiconductors require substrates "because the ultrathin wiring that comes out of chips can't tolerate a direct soldered connection to a circuit board." Substrates offer "thin copper wire … [that] help transmit user instructions to a computer's chips and relay the answers."
Unimicron Technology, Ibiden, and Samsung Electro-Mechanics are some of the companies (mostly in Asia) that make substrates, which "are less sophisticated than the ultra-pricey machinery needed to make the glamorous parts of the most advanced chips."
At TechSearch International, which consults on substrates, president Jan Vardaman reported that, "while substrates have become more complex and important in chip performance over time, chip makers have long pressured substrate suppliers to keep prices low … [which has] limited investments in adding substrate production capacity."
As a result, "major chip companies are … placing orders far in advance and prepaying so that substrate companies have ample cash to build more factories … [and] some are committing to buying the entire supply of new production lines to give their suppliers confidence to invest." Nvidia chief executive Jensen Huang and AMD chief executive Lisa Su said they are making efforts to "secure capacity," while Intel's Gelsinger stated that the company is "using its factories to help with portions of the substrate manufacturing process."
Among substrate manufacturers, Zhuhai Access is building a nearly 2-million square foot plant near Macao; Japan's Ibiden "plans to replace a plant in Ogaki with one slated to begin production in 2023" at the cost of about $1.6 billion; and Taiwan's Nan Ya PCB Corp. plans to finish expansion "of advanced substrate manufacturing" near Tapei, entering mass production by 2023. Austria Technologie & Systemtechnik also plans to build a Malaysia-based $1 billion factor for substrates and circuit boards, slated to open in 2024.
According to Vardaman, some substrate manufacturers have raised prices. She expects "supply and demand for advanced substrates used in central-processing units and other powerful chips will continue to widen," with a need for an additional 40 million square feet of advanced substrate manufacturing space by 2025.