A recent study by collaborative media platform Wikia, in association with market researcher Ipsos MediaCT, indicates that YouTube is among the most popular sites for the younger generation, known as "Generation Z." The study surveyed 1,203 13-to-18-year-old participants about their Internet and social media habits. Not surprisingly, the findings also point out an increase in use of mobile devices throughout the day by the same age group.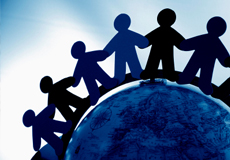 According to a press release this week, nearly half of those surveyed claim that they are more connected than they were three months ago. Of the 1,203 teenagers, 93 percent visit YouTube at least once a week, while 54 percent say they visit the site multiple times a day.
Comparatively, only 65 percent indicate they visit Facebook weekly and 38 percent visit multiple times per day. In terms of other social media visited on a weekly basis: Twitter (26 percent), Google+ (26 percent), and Instagram (17 percent).
This demographic comprises about 8.3 percent of the U.S. population, according to the 2010 Census.
"As the father of an upcoming GenZer, and through my experience creating and developing collaborative publishing platforms, it is clear that this generation is using technology in a way that is smarter, more involved and beneficial to their future," suggests Jimmy Wales, co-founder of Wikia.
"Everyone can learn from the ways in which this unbounded, younger generation interacts with technology and are able to quickly adapt to this rapidly changing media landscape," he adds.
The press release also notes that the study explored the idea of technology increasing intelligence. "Among those who contribute to websites, 60 percent like to share their knowledge with others and 55 percent say they like to share their opinion with others. Only 31 percent of those who contribute to websites do so in order to feel good about themselves, and even fewer do so to show that they are smarter than others (14 percent). The top two reasons for contributing are that doing so is entertaining and fun (70 percent) and that they like to learn new things (64 percent)."
"This study into Generation Z is important because it allows us to share with marketers and advertisers the user habits of this highly engaged, highly active section of our growing community," said Jennifer Betka , SVP of marketing at Wikia. "This study emphasizes how teens are engaging, contributing, sharing and learning on open platforms in pursuit of greater potential and connectedness."
Topics:
Facebook
,
Forecast
,
Generation Z
,
Google
,
Instagram
,
Jimmy Wales
,
Social
,
Social Media
,
Study
,
Survey
,
Trend
,
Twitter
,
Wikia
,
YouTube