Los Angeles-based immersive media startup Within plans to release Wonderscope, an augmented reality app for children, later this month. With Wonderscope, mobile AR superimposes characters, scenes and stories onto an iPad camera view of a real-world environment. Within chief executive Chris Milk noted that, with Wonderscope and a smartphone, anyone can have "this new magical ability." "It's like a lens for invisible magical things that you couldn't see with your naked eye," he added.
Variety reports that "Little Red the Inventor," a twist on the classic fairy tale, will be one of the first stories to be released. In the updated story, Red is "devoted to science and engineering" and combats a wolf "that Milk describes as a #MeToo-like villain." She wins the day with the help of the viewer "who communicates with her via speech-recognition technology."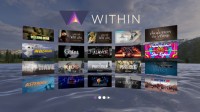 "Parents love the idea that their kids aren't sitting there vegged out," said chief technology officer Aaron Koblin. "They're actually engaged and moving around, they're reading out loud. It's a way more active experience, which we're really excited about." Milk reported he made the product he wished he had when he was 7.
Since Apple and Google introduced updated mobile operating systems within the last year, both companies "now have hundreds of millions of mobile devices that are AR-enabled." But it's still taking creative some time to "explore the full potential of the medium," as the first apps "largely offered up short-lived gimmicks that didn't satisfy consumers."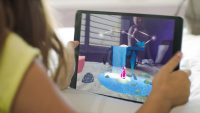 According to App Annie, AR iOS app downloads "spiked in December 2017, and have since leveled off." Milk isn't worried, noting that, "it always takes a while to figure it out." Magic Leap chief content officer Rio Caraeff warned that creative have to make sure they don't offer viewers too much "digital stuff that can overwhelm my cognitive load."
"We are always saying: Less is more," said Magic Leap interaction director Aleissia Laidacker, who added that "creating content for AR is still very much an unknown territory."
Because AR works in a real world environment, Milk stressed that, "you have to build a story that can work in someone's kitchen, in someone's backyard, next to someone's pool." Two years ago, studios and startups were enthused over virtual reality storytelling, but "some have since reversed course," such as Disney-backed Jaunt, which laid off "its entire VR staff to focus solely on AR." IMAX, Disney and Google are others that are "reevaluating [their] commitment to the space."
But Within chief operating officer Colin Decker doesn't think that AR is defeating VR. "VR disappointed anyone who had an irrational view of what it was going to be in an irrationally short time," he said. "We think that both AR and VR hold great promise and great potential."
Topics:
#MeToo
,
Aaron Koblin
,
Aleissia Laidacker
,
App Annie
,
Apple
,
Apps
,
Augmented Reality
,
Children
,
Chris Milk
,
Colin Decker
,
Disney
,
Google
,
IMAX
,
Immersive Media
,
iPad
,
Jaunt
,
Little Red the Inventor
,
Los Angeles
,
Magic Leap
,
Mobile
,
Rio Caraeff
,
Smartphones
,
Speech Recognition
,
Virtual Reality
,
Within
,
Wonderscope