As Yahoo's global online ad revenue is forecast to drop by 14 percent this year, and scrutiny of the embattled Internet company's leadership continues, Starboard Value has initiated a shareholder revolt. Yesterday, in a letter to investors, the activist hedge fund introduced nine candidates to run for the Yahoo board (including Starboard chief exec Jeffrey Smith). Starboard, which holds a 1.7 percent stake in Yahoo, has called into question the leadership of Yahoo CEO Marissa Mayer and is looking to oust the company's current board. Starboard hopes that such pressure will encourage the sale of Yahoo's core businesses.
"Starboard rose to fame by taking on Darden Restaurants, the owner of Olive Garden, successfully ousting that company's entire board after an unusually blistering public attack that accused the restaurant operator of insufficiently salting its pasta water," explains The New York Times.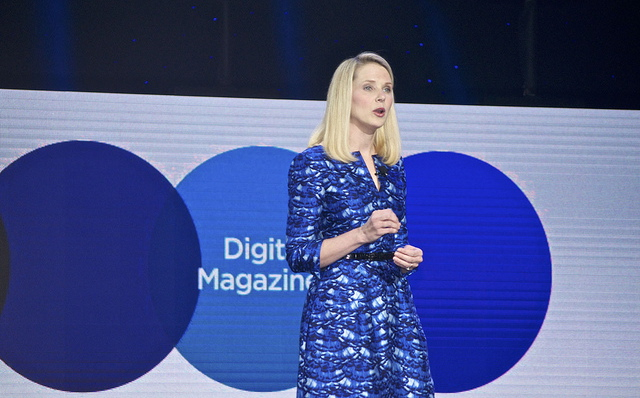 In addition to Smith, Starboard suggested the following candidates: former NBCUniversal exec Bridget Baker; former Deutsche Bank exec Tor Braham; Brad Buss, formerly of SolarCity and Cypress Semiconductor; W. Lance Conn, former president of Vulcan Capital; Dale Fuller, former exec at moka5, McAfee and Borland Software; Eddy Hartenstein, a former chief executive of the Tribune Publishing Company, DirecTV and the Los Angeles Times Media Group; former Novellus exec Richard Hill; and Debra Janssen, COO of Bankers Trust.
"It is unfortunate that this action is necessary," Starboard explained in its letter. "As you know from reading our prior letters, we have been attempting to work with Yahoo for the past 18 months. Over this time frame, we have repeatedly requested an opportunity to work with the company, including offers to join the board and work constructively with the current directors. At every step of the way, management and the board have pushed us away."
Mayer has been working to turn Yahoo around by introducing cuts to spending and placing new emphasis on key areas such as search and content. In addition, the board has initiated a sales process for the company's core business.
According to The Wall Street Journal, "Should Starboard prevail, in a vote likely to be held a few months from now, it could increase the odds of a sale and a dismantling of the company, which owns valuable stakes in China's Alibaba Group Holding Ltd.and Yahoo Japan."
Research firm eMarketer forecasts digital ad growth for Facebook and Google, but anticipates a sharp drop for Yahoo's worldwide online ad revenue.
SiliconBeat reports, "Yahoo's online ad revenue will decline about 14 percent to $2.83 billion this year, from $3.28 billion last year and $3.44 billion in 2014, according to eMarketer. That fall would cut Yahoo's share of the global digital ad market to 1.5 percent, from 2.1 percent in 2015."
Specifically, eMarketer forecasts declines for both search advertising and display advertising. "Search ad revenue will drop to $1.41 billion from last year's $1.62 billion, and display ad revenue will fall to $1.41 billion from $1.67 billion, the research firm said."
Topics:
Advertising
,
Alibaba
,
Bankers Trust
,
Brad Buss
,
Bridget Baker
,
Cypress Semiconductor
,
Dale Fuller
,
Darden Restaurants
,
Debra Janssen
,
Deutsche Bank
,
Eddy Hartenstein
,
eMarketer
,
Hedge Fund
,
Internet
,
Jeffrey Smith
,
Marissa Mayer
,
NBCUniversal
,
Novellus Systems
,
Olive Garden
,
Richard Hill
,
Search
,
Shareholders
,
SolarCity
,
Starboard Value
,
Tor Braham
,
W. Lance Conn
,
Yahoo