SoundSight has designed wireless smart headphones that include a built-in 1080p camera, six microphones, voice control, and a six-axis gyroscope and accelerometer. The device uses Bluetooth that enables live-streaming video from the wearer's perspective. The user can also edit recorded footage using an app on iOS or Android devices before sharing it on social media. Editing options include adding music, filters, effects and recording controls.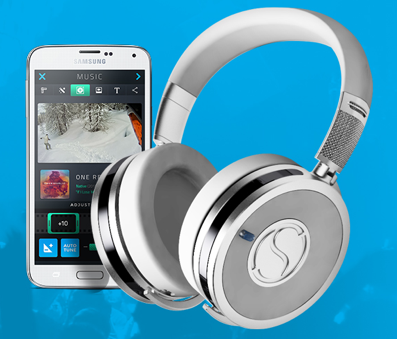 Videos can be uploaded to the SoundSight website and shared via social networks such as Facebook.
"If you're concerned about having to hold your head just so to get a good angle, don't be: the camera portion is mounted to the outside of the earcups, rotating 270 degrees so allow for proper adjustments," reports Engadget.
The headphones are powered by an 800 mAh battery that lasts 24 hours on standby, 18 hours if only the noise cancellation is on, and four hours when the camera is constantly in use.
The device includes a 3.5mm jack adapter, a 3.5mm detachable coiled and straight cord, USB audio output, and a special case for the headphones.
If pre-purchased within the next 30 days, the device costs $349, while the official release next spring will cost $499 per set.
"Think Beats meets Instagram and GoPro and you have SoundSight Headphones," suggests DJ Sashi on the promotional video.
Topics:
1080p
,
Accelerometer
,
Android
,
App
,
Battery
,
Bluetooth
,
Camera
,
Editing
,
Facebook
,
Filters
,
Gyroscope
,
Headphones
,
Headset
,
iOS
,
Live Streaming
,
Microphones
,
Music
,
Noise Cancellation
,
Recording Controls
,
Sharing
,
Social Media
,
SoundSight
,
Stream
,
USB Audio Output
,
Video
,
Voice Control
,
Wearer
,
Wireless