A top Sony executive predicts smartphones will make DSLR cameras obsolete by 2024. Speaking at a business briefing, Sony Semiconductor Solutions president and CEO Terushi Shimizu said the company expects smartphone cameras "will exceed the image quality of single-lens reflex cameras within the next few years," Nikkei Asia reports. According to the Sony presentation, "still images are expected to exceed interchangeable lens camera (ILC) image quality" within three years. In addition to the older DSLR tech that has fallen by the wayside, the ILC category also includes more modern mirrorless cameras.
The new technology that will drive the best phone cameras to such heights as to make standalone cameras irrelevant includes "'quantum saturation' and improvements to 'AI processing,'" writes TechRadar, noting that "Sony also expects the sensor size in 'high-end model' phones to double by 2024."
"The larger pixels on these sensors will, it says, allow phone makers to apply multi-frame processing that 'realizes a new imaging experience,' including improved Super HDR modes and zooms that combine folded optics (as on the Sony Xperia 1 IV) with AI algorithms."
The Sony presentation also highlighted the company's new "two-layer transistor pixel technology," which aims to dramatically improve the dynamic range on phone cameras while reducing low light noise. Sony says such advances are coming to video, too, with higher read-out speeds for next-gen sensors supporting 8K video and multi-frame processing (including video HDR).
In addition, the general integration of "AI processing for video" also promises improvement along the lines of the computational video techniques that power the Apple iPhone's Cinematic Mode.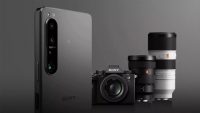 TechRadar calls the Sony predictions "significant for all smartphones, because according to Statista Sony has 42 percent of the global image sensor market for phones, while teardowns of the iPhone 13 Pro Max show that it uses three Sony IMX 7-series sensors."
In December, Sony announced a new stacked CMOS sensor with two-layer transistor pixels, "which effectively exposes each pixel to twice as much light as a standard sensor," TechRadar says, calling this a major imaging development.
"This sounds like a hardware advance that computational algorithms could definitely get their teeth stuck into in order to boost dynamic range and noise performance. But given how good the latest phones are at photography, the most noticeable advances over the next few years are likely to be in video," TechRadar predicts.
The Sony presentation also highlighted forthcoming video improvements as a result of multi-frame processing and its Edge AI platform, which supports augmented reality apps in addition to video.