Sony Corporation president and CEO Kaz Hirai began his solo CES media briefing with the Alpha 9, a mirrorless and completely silent camera ideally suited to shoot at the top of a golf swing or on a quiet soundstage, and continued to celebrate accomplishments across every division, including Sony Pictures, Sony Music, and PlayStation. "If you see the name Sony on any product, content, or service, it symbolizes our promise to move you emotionally," he said. "Our products are designed to have a personal and individualized place in all of your lives."
A subtext to Hirai's remarks was the integrity of artistic intention and the human qualities of creativity, imagination, curiosity and emotional connection. Together, he portrayed a company that is a valued partner of the creative community in content creation and a trusted provider of innovative consumer products and entertainment.
Hirai provided updated PlayStation numbers, noting sales of 5.9 million units this past holiday season to bring the total units sold worldwide to 73.6 million.
Audio and imaging stood out among the Sony products.
As the market for televisions becomes increasingly commoditized, the most prominent display area in the Sony booth was its line-up of cameras. In addition to the new Alpha 9, Sony showed the latest addition to its RX100 series of ultra-compact waterproof cameras: the RX0 (above). Along with it, the company showed an optional control box that can connect up to 100 RX0 cameras with or without wires and without synchronization to create "bullet time" imagery, VR, and other creative applications.
The combination of audio and television display was seen in the 4K OLED Bravia A8F series that features a 4K HDR image processor X1 Extreme together with Sony's unique Acoustic Surface technology that vibrates the display and enables sound to be output directly from the TV screen. Although this seamless integration of audio and image was available last year in the A1 Series, the new design minimizes the footprint.
Also on display, a prototype 8K display demo driven by the X1 Ultimate next-generation picture processor showed real-time processing of 8K HDR content as well as a peak brightness of 10,000 nits, the highest in the HDR format. The processor seeks to deliver the highest level of picture quality by bringing out the best of both LCD and OLED display panels.
Two soundbars, the HT-Z9F and HT-X9000F, both support Dolby Atmos and DTS:X, the latest audio formats. Equipped with Sony's Vertical Surround Engine technology, the front speakers of each model can produce 3-dimensional acoustics all by themselves.
A new Life Space UX product, the LSPX-A1 is a 4K Ultra Short Throw projector that that fits seamlessly into any living environment. It will launch in spring 2018 in the U.S.
Sony is incorporating Google Assistant into numerous devices, turning speakers into Home stations.
Sony's own AI discovery protoype, "It's all here," uses AI-enabled content analysis and mapping to display large amounts of music, movies, and books to find the content that piques your interest.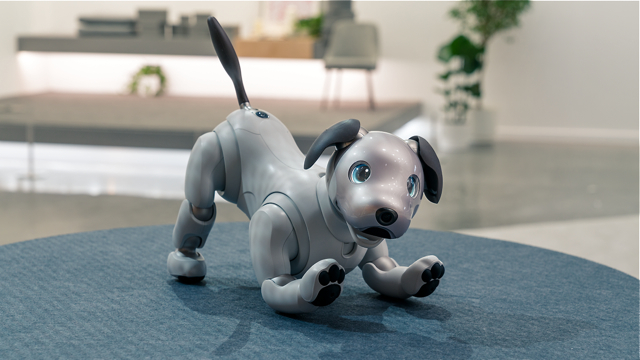 AI and robotics were on display in Aibo, an entertainment robot (above). The original Aibo was introduced in 1998. Twenty years later, the new Aibo leverages advanced sensor technology Sony develops for the automotive industry.
A video of the press conference can be streamed on the Sony site.
Topics:
4K
,
8K
,
Aibo
,
Alpha 9
,
Artificial Intelligence
,
Audio
,
Bravia
,
CES 2018
,
Dolby Atmos
,
DTS:X
,
Game Console
,
Gaming
,
Google Assistant
,
HDR
,
Kaz Hirai
,
Las Vegas
,
LCD
,
Life Space UX
,
Mirrorless
,
Movie
,
Music
,
OLED
,
PlayStation
,
Projector
,
Robotics
,
Sony
,
Sony LSPX-A1
,
Sony Music
,
Sony Pictures
,
Sony RX0
,
Sony RX100
,
Soundbar
,
Television
,
Virtual Reality