Changing Environments, a spin-off of MIT Media Lab, has created a $3,000 solar-powered bench called Soofa (a play on "smart urban furniture"). The bench features two USB ports that allow users to charge their smartphones and other mobile devices. On its website, Soofa provides info about weather, noise level and air quality around its benches, which are currently springing up in parks and campuses across Boston, with plans to soon launch in New York and San Jose, California.
"Your cell phone doesn't just make phone calls," said Boston Mayor Martin J. Walsh. "Why should our benches just be seats?"
"So far, 10 benches have been installed at various locations in Boston, said Kris Carter, program director at Boston's s Office of New Urban Mechanics," reports The Washington Post. "Four benches are located within Boston Parks Systems, four on college campus in the Boston and Cambridge area, and two in private parks. Two more will be installed later this month."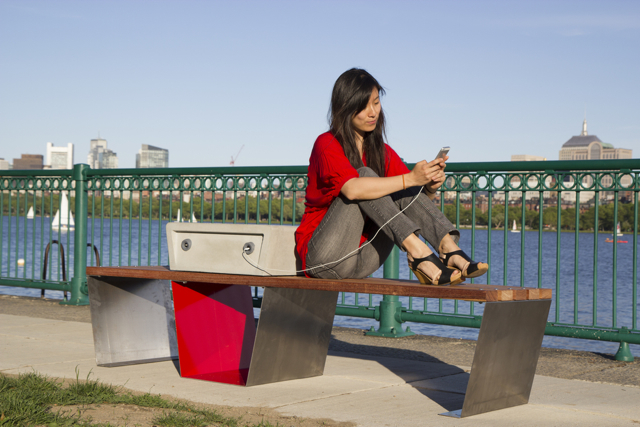 Changing Environments unveiled the Soofa at the White House's first ever Maker Faire last month. The first benches were paid for by Cisco.
"The Soofa isn't just about phone charging: It also contains noise and air sensors embedded in the bench's 'brain,'" notes Yahoo Tech. "Those sensors constantly collect data and beam it over Verizon's 4G network to Soofa's website, which will let people know where there is an available bench, in a quiet location, with fresh air."
The site provides an interactive map with bench locations, recent foot traffic and whether or not a charging port is presently available.
The designers behind Soofa — Sandra Richter, Nan Zhao and Jutta Friedrichs — envision the benches becoming like a modern water cooler where strangers gather to charge their devices and friends plan to meet socially.
The benches could also have applications for theme parks, sports facilities, music venues, entertainment studios and much more.
Editor's Note: Special thanks to ETCentric community member Lee Lanselle for forwarding this news.
Topics:
4G
,
Boston
,
Changing Environments
,
Cisco Systems
,
College Campus
,
Jutta Friedrichs
,
Kris Carter
,
Lee Lanselle
,
Maker Faire
,
Martin Walsh
,
MIT Media Lab
,
Mobile
,
Nan Zhao
,
New York City
,
Park Bench
,
Parks
,
Phone Charging
,
San Jose
,
Sandra Richter
,
Smartphone
,
Solar-Powered
,
Soofa
,
Sports Stadiums
,
Studios
,
Tablet
,
Theme Parks
,
USB
,
Verizon
,
White House