Snapchat is rolling out a new feature for its premium Snapchat+ platform that enables users who send Snaps to My AI let the artificial intelligence know what they're up to "receive a unique generative Snap back that keeps the conversation going" via My AI Snaps. The feature was previewed at the Snap Partner Summit in April as part of a larger push on AI updates, including the ability to invite the My AI chatbot to participate in group chats with friends and the ability to get AI Lens suggestions and place recommendations. In addition, the My AI chatbot — made free to all users this year — was updated to reply to users' Snaps with a text-based response.
As for for My AI Snaps, "if you Snap My AI your latest grocery haul, it might recommend a recipe," Snap said in an announcement that warns "mistakes may occur, so please do not rely on it for advice." It also says AI chatbot conversations will be saved until the user manually deletes them, which is also true with the generative photos.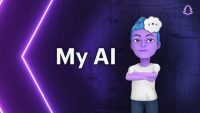 Questions are arising as to the sufficiency of guardrails Snap has implemented around the My AI generative photo feature. "This could be a concern for parents of teens, as other generative AI apps, like Lensa AI, have been easily tricked into making NSFW images," TechCrunch writes, citing "reports that My AI had been responding in an unsafe manner."
Snap has implemented new insights in a parental controls hub, the Family Center, "to help parents and guardians stay informed about their kids' interactions with the My AI chatbot," TechCrunch says, noting "parents can choose to see if their teen chatted with the AI in the last 7 days."
My AI has garnered some criticism from Snapchat users, who "slammed the app with one-star reviews after its rollout, complaining about the bot being pinned to the top of their Chats, where they can't remove it or block it," TechCrunch reports.
Meanwhile, as parents fret, "teens are bullying Snapchat AI," TechCrunch says, writing that "Snapchat users have been gaslighting, degrading and emotionally tormenting the app's new AI companion."
Snapchat's My AI is powered by OpenAI's GPT, which "was trained to engage in playful conversation while still adhering to Snapchat's trust and safety guidelines," per TechCrunch.
Related:
Snapchat Can Now Send You AI Snaps, The Wrap, 5/31/23
You Can Now Send Snapchat's AI Chatbot Photos and Get a Response, ZDNet, 5/31/23