Premium cable network Showtime has begun syncing interactive elements for its shows directly onto LG's smart TVs using Web-based technology. This service is unique in that there are no extraneous downloads or devices. Although not all Showtime viewers own the compatible technology for interactive TV, this will likely change in the future as more TV manufacturers adopt the standard HTML5 and JavaScript technologies used by LG's LivePlus service.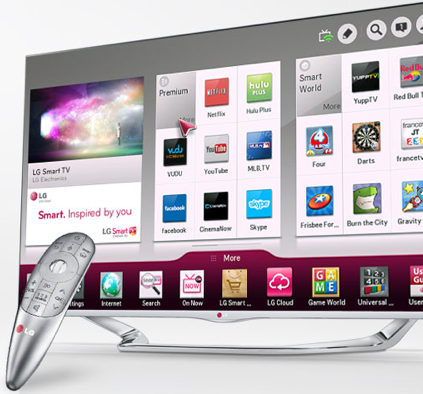 "Showtime already makes that ancillary content available through the SHO Sync app for Apple iPads, released last fall — but the experience is superior on LG's TVs, because the interactive features pop up in the program itself without any separate download or device required, according to David Preisman, Showtime's veep of interactive television," reports Variety.
"We believe it could be a game-changer in terms of what clicks with consumers on a smart TV set," he said. "Is the footprint on Day 1 going to get everyone thrilled? No, this is just rolling out. But I think we're going to pretty quickly get to scale."
Showtime's ultimate goal is to keep fans engaged for as long as possible so that they keep paying for the service. Interactive content has been released so far for 200 episodes.
"LG's LivePlus recognizes a Showtime original series episode as SHO Sync-enabled using a video-based fingerprint-matching technique. At that point, a prompt lets a viewer play along with the ep using the LG remote, and also share synchronized content to Twitter and Facebook," explains Variety. "The LivePlus technology works across live, DVR, DVD and video-on-demand formats."
The Web-based technology being utilized is superior to the technologies used by cable companies for interactive TV, according to Preisman. "LG LivePlus provides full 24-bit color with 16 million colors, high-end fonts and smooth animation effects," notes the article.
LG also recently partnered with Cognitive Networks to take the next step toward upgrading its LivePlus service to do much more than merely display character backgrounds, trivia and additional information.
Cognitive Networks can deliver "information to networks and telcos by installing a small script on a smart TV that sends a constant stream of visual data of what's being displayed into the cloud," reports Engadget. "Then the company identifies the content using Automatic Content Recognition (ACR) algorithms and notifies the TV network that its show is being watched. After getting the notification, networks can send back a URL to trigger a relevant event or open an app on your TV. They can choose certain times in the show to trigger certain notifications to perfectly tailor the viewing experience, too."
Topics:
ACR
,
Ancillary
,
Animation
,
App
,
Apple
,
Cable
,
Cloud
,
Cognitive
,
DVD
,
DVR
,
Effects
,
Facebook
,
HTML5
,
Interactive
,
iPad
,
ITV
,
JavaScript
,
LG
,
Live TV
,
LivePlus
,
Network
,
On Demand
,
Preisman
,
Remote
,
SHO
,
SHO Sync
,
Showtime
,
Smart TV
,
Social
,
Sync
,
Tablet
,
Television
,
TV
,
Twitter
,
Video On Demand
,
web-based