Samsung has announced a pair of new Galaxy smartphones aimed at the lower-end of the market. The Galaxy Young and the Galaxy Fame, expected to land in emerging markets, will come in either single-SIM or dual-SIM configurations. The announcement comes weeks before the Mobile World Congress in Barcelona, where pricing and availability may be revealed. Rumors suggest the company is also readying a new flagship phone that enables touchless gestures.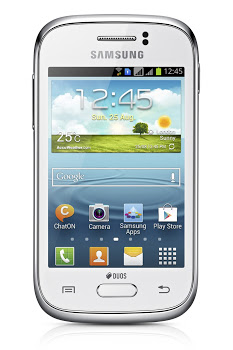 Digital Trends introduces the two devices, beginning with the Galaxy Young, "which as the name suggests would be perfect for a first smartphone." It features a 3.27-inch screen with 320 x 480 pixel resolution, a single-core 1GHz processor and a 3-megapixel camera.
Additionally, it comes installed with Google Android 4.1 Jelly Bean, "along with TouchWiz, plus Samsung's gesture controls, shake-to-update and turn over to mute tweaks," continues the article.
The Galaxy Fame is very similar. It features a slightly larger display at 3.5-inches, but the same resolution. It has a 5-megapixel camera and a VGA video call lens.
"It also runs Google Android 4.1 Jelly Bean, but has Bluetooth 4.0 over the Young's Bluetooth 3.0, plus it can be purchased with NFC, just like the Galaxy S3 Mini. Both phones have 1300mAh batteries, 4GB of internal storage space, plus a microSD card slot with a maximum capacity of 64GB," notes the article.
In a related story, Business Insider suggests the next Samsung flagship smartphone may be on its way. "The latest rumor says the Galaxy S IV can be controlled by touchless gestures instead of regular taps and swipes," explains the article.
"The touch-free system is supposed to mimic the Galaxy Note II's Air View, a sensor that recognizes when the stylus is over the screen, but a newer sensor would eliminate the need for a stylus," according to BI. "One example is you'll be able to answer your phone just by holding it up to your ear when it rings. There's no need to tap an 'answer' button."
The rumored phone is said to feature a 5-inch 1920 x 1080 screen, 13-megapixel camera, 8-core processor and 2GB of RAM.