After Samsung launched ad-blocking support for the Samsung Internet Browser on its mobile devices, third-party ad blocking apps shot up to the top of the Google Play app store. Google pulled them from the store soon after because the tech giant does not want to distribute apps that conflict with its own advertising business. Although Google is removing ad blocking apps, it has not taken any action to remove mobile browser apps that feature ad blocking already built-in.
Google has already pulled some of the most popular ad blockers. The Adblock Fast app was the top free productivity app in the Google Play store. The app had a 4.25 rating and about 50,000 installs when it was removed. Google cited the app for violating Section 4.4 of the Android Developer Distribution Agreement.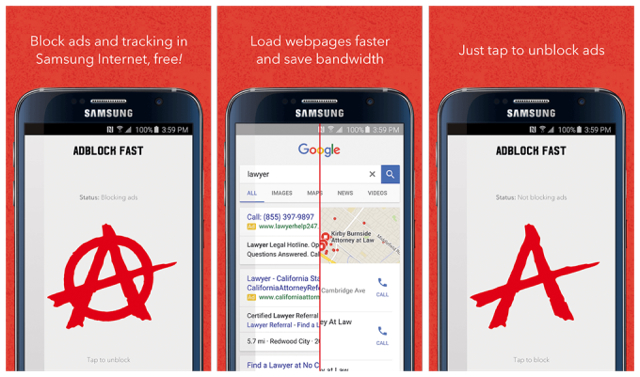 Section 4.4 stipulates that developers cannot release apps that interfere with any other devices, services, servers, networks, or properties of any third-party including Google. The language is vague so that the company can respond to new issues like ad blocking.
Google informed the creator of Adblock, Brian Kennish, that he could resubmit his app if he made changes so that the app would not "interfere with another app, service, or product in an unauthorized manner."
According to TechCrunch, Google will still support mobile browser apps that already have built-in ad blocking, like Crystal and AdBlock Plus. Dean Murphy, the developer of Crystal, however, said that he submitted an update for the app that was declined because of Section 4.4.
Crystal has not been removed from Google Play though, and neither has Firefox, Javelin, or Dolphin. Those mobile browsers have ad-blocking extensions that are not distributed through Google Play. Samsung may have to find other ways to distribute ad blockers for its browser.
Topics:
Ad Blockers
,
Ad Blocking
,
Ad Blocking Apps
,
Adblock Fast
,
Adblock Plus
,
Advertising
,
Android
,
APK
,
App Store
,
Apple
,
Apps
,
Brian Kennish
,
Browser
,
Crystal
,
Dean Murphy
,
Developers
,
Dolphin
,
Extensions
,
Firefox
,
Google Play
,
Internet
,
Internet Browser
,
Javelin
,
Mobile
,
Mobile Browser
,
Networks
,
Productivity
,
Safari
,
Samsung
,
Servers