Samsung chose its San Francisco developer conference to unveil the anticipated prototype of its foldable two-screen smartphone. The Infinity Flex Display touts a 7.3-inch screen that can be folded to easily fit in a user's pocket. The device also includes what the company calls a "multi active window" feature that enables running up to three apps simultaneously. Google will support the phones with its Android operating system and is working with Samsung on next year's planned launch. Meanwhile, foldable tech is becoming an emerging trend, with products in various stages from Huawei, Lenovo, Royole, Xiaomi and LG, some of which we may see at CES in January.
"At least five of the world's leading sellers of phones, including Apple, have sought patents for folding models, which would mark the biggest design change to the flat rectangular slabs that have been ubiquitous since the dawn of the smartphone era a decade ago," reports The Wall Street Journal. "At least two companies — Samsung Electronics Co. and Huawei Technologies Co. — have confirmed plans to release handsets with foldable displays."
Huawei plans to release its foldable smartphone next year, while companies such as Lenovo and Xiaomi have been teasing their own prototypes. In addition, LG has been developing flexible OLED displays and TVs that can roll up like a giant newspaper, while rumors have surfaced about a foldable phone.
"Foldable smartphones may become one of the standout mobile trends of 2019, with several manufacturers officially stating they're working on such devices for the coming year," reports Digital Trends. Rumors suggest that LG may "show a foldable smartphone during a presentation at next year's CES technology show in Las Vegas, according to mobile leaker Evan Blass."
Confirmed by Engadget, internal documents from LG indicate the company is planning to demo its rollable OLED TV tech at CES in addition to the foldable phone revealed by Blass.
At Samsung's developer conference this week, SVP of mobile product marketing Justin Denison introduced the company's Infinity Flex Display (pictured above). He "showed a device that folded out into a tablet and back up into a candybar-like form factor," reports The Verge. "The device includes a cover display that acts as a phone, and a main 7.3-inch tablet display."
Denison explained that Samsung plans to start mass production on the new handset in a "matter of months." According to The Verge, "Google is providing guidance for developers to start using existing features that are built into Android to support these foldable displays."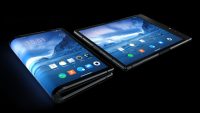 While Samsung is generating most of the media attention this week, it is worth noting that California-based startup Royole already launched what it is touting as the world's first foldable smartphone. The $1,300 FlexPai (above), a 7.8-inch mobile hybrid device that switches from tablet to phone, was unveiled October 31 at a conference in Beijing, and made available via a flash sale the following day.
"Bill Liu, founder and CEO of Royole, also announced that the firm would invest 200 million yuan into global firms that would develop apps and software for the device," explains CNBC.
Royole demoed a working version this week at an event in San Francisco. The Verge suggests "the folding feature works as advertised," noting that "it feels miles away in quality from a high-end modern flagship, but it is still the first real foldable device" that the reporter had seen in person, beyond just a "concept video or prototype stage."
The consumer version is available in China for around $1,300. A developer version is available in North America for the same price. "That gets you 128GB of storage, but you can double it for an additional $150 and add an additional 2GB of RAM for a total of 8GB," notes The Verge. The developer version also features a Qualcomm Snapdragon processor, 1920 x 1440 resolution (when fully expanded), and a 3,800 mAh battery.
ETCentric will have the latest updates on foldable devices and other tech trends this January when its team reports live from CES in Las Vegas.
Related:
Samsung Reveals Key Specs for its Upcoming Foldable Smartphone, The Verge, 11/7/18
Here's What Samsung's Wacky Folding Phone Looks Like in Action, TechCrunch, 11/7/18
Google Is Adding Android Support for Foldable Screens, TechCrunch, 11/7/18
Can Foldable Phones Help Samsung Emulate Apple?, The Wall Street Journal, 11/7/18
The Foldable Phones Are Coming: Samsung's Device Is Just the Beginning, The Verge, 11/8/18
LG Display Invests $1.7 Billion to Produce Flexible OLED Phone Screens, The Verge, 7/28/18
Huawei Is Reportedly Planning Foldable Phone Launch Ahead of Samsung, The Verge, 7/26/18
Lenovo Is Working on Bendable Phones and Tablets, The Verge, 6/9/18
Topics:
Android
,
Apple
,
Apps
,
Bill Liu
,
California
,
CES 2019
,
China
,
Displays
,
Evan Blass
,
Flexible
,
FlexPai
,
Foldable
,
Google
,
Huawei
,
Infinity Flex Display
,
Justin Denison
,
Las Vegas
,
Lenovo
,
LG
,
Mobile
,
OLED
,
Patents
,
Prototype
,
Qualcomm
,
Royole
,
Samsung
,
San Francisco
,
Smartphone
,
Snapdragon
,
Tablets
,
Television
,
Xiaomi