Galaxy Note 4 users interested in virtual reality can spend $199 for the newly launched Samsung Gear VR Innovator Edition, available via the Samsung and AT&T sites (a Verizon version is on its way). A variety of VR games and applications are available from the Oculus VR app store and a 16GB microSD card starter kit. Since Gear VR is designed for mobile, there are limitations to the types of games you can play, but Samsung offers a Bluetooth controller with more standard game controls in a $249 bundle.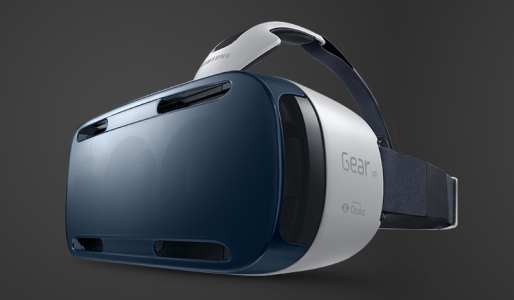 "Samsung's industry leading Super AMOLED display technology and cutting-edge Oculus-driven software fuse to create an experience that you have to see to believe," explains Samsung. "With the Gear VR Innovator Edition, users can explore new worlds, be on-stage at a performance with full 360 degree video, and can enjoy gaming in a way that's never been done before."
Similar to Google Glass, the Gear VR includes a built-in touchpad on the side of the headset for navigation and selections.
"Those who already own the most recent Oculus Rift developer kit will notice a few big differences when they strap on the Gear VR," reports TechCrunch. "Because the screen is a Galaxy Note 4, you attach to the headset, you've got a 1440p screen rather than 1080p. That means the so-called 'screen door' effect, where you can see the pixels on your screen because they're so close to your eyes, won't be quite as distinct with this headset."
According to the Samsung order page, "the Verizon version of Galaxy Note 4 is not compatible but will be soon… Some high-quality gaming apps may require the use of an Android game controller to offer control capabilities in addition to the Gear VR's integrated touchpad and tracking sensors."
The Samsung Gear VR can also be ordered on the AT&T site.
Topics:
1080p
,
1440p
,
360 Degree
,
Android
,
App
,
AT&T
,
Bluetooth
,
Galaxy Note 4
,
Game
,
Game Controller
,
Gear VR
,
Gear VR Innovator Edition
,
Google Glass
,
Headset
,
Mobile
,
Oculus Rift
,
Panoramic
,
Samsung
,
Sensor
,
Super AMOLED
,
Touchpad
,
Verizon
,
Virtual Reality
,
Wearable