Samsung updated its privacy policy to explain that the company would not be eavesdropping on viewers when they use the voice controls on their Samsung smart TVs. The previous version of the policy suggested that recorded audio could be transmitted to a third party through the television's voice recognition software. Samsung clarified that only words spoken into the remote would be recorded and sent to the outside company. Users can also opt to turn off the voice recognition feature.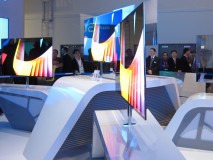 The initial privacy policy for Samsung's smart TV line caused an uproar, reports The New York Times. The following sentence in particular had people worried about the privacy of their couch conversations: "Please be aware that if your spoken words include personal or other sensitive information, that information will be among the data captured and transmitted to a third party through your use of Voice Recognition."
As part of the new policy, Samsung revealed that Nuance Communications, a premier voice recognition technology company, is the third party that receives the voice recordings. Samsung only sends those voice recordings when viewers click an activation button on the smart TV or remote control and speak into the mic. It does not record every conversation during a viewer's TV viewing session.
Samsung reassured its customers that their voice recordings are safe. Users can always turn off the voice recognition feature. Otherwise, their data is protected with data encryption and other "industry-standard security safeguards," according to the company's blog post.
Samsung did not reveal how long Nuance Communications keeps the recordings or how viewers can delete the recordings. On the other hand, Amazon's Echo music system and virtual assistant also utilizes voice recognition, but the company provided instructions for deleting the recording.