Samsung Electronics announced on Monday that it will phase out its unprofitable desktop PC business and allocate its resources to connected and portable devices including tablet computers and all-in-one laptops. "Tablets, all-in-one and hybrid PCs are Samsung's current focus. Samsung is speeding up its restructuring of its PC business via product realignment toward profitable variants," explained a Samsung official.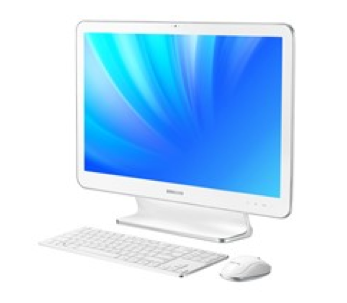 "The connected world is going to expand. This is the industry's new trend," said Kim Il-tae, a senior fund manager at Taurus Investment. "Simply put, desktop PCs are no longer a cash-generator. Samsung is getting smarter."
"While the idea of moving away from selling desktops in a market where mobile is growing seems obvious, it's still a milestone for the computer industry as a whole," writes Kevin Tofel for GigaOM. "I think it also speaks to Samsung's savvy strategies when compared to others that are staying the course. HP is a perfect example: After betting $1.2 billion on mobile at the right time — it purchased Palm in 2010 — HP squandered the opportunity and has only recently brought its first Android tablet to market."
"To HP and others in the Android tablet and smartphone space, I say 'good luck!'" adds Tofel. "Research firm Strategy Analytics estimates that in the first quarter of this year, Samsung earned 95 percent of the Android smartphone profits. It may not do quite as well in the tablet space, but it's still among the leaders."
On Friday, Samsung unveiled its ATIV One 5 Style, a new all-in-one Windows 8 PC that borrows its design aesthetic from the company's Galaxy mobile devices (pictured above). It features a full HD (1920×1080) touchscreen and AMD A6 quad core processor.
Samsung sold 9.1 million tablets during the first three months of 2013, due to rising demand for Galaxy-branded tablets.
"Samsung plans to introduce more tablet variants next year rather than its flagship Galaxy smartphones, said officials. The firm aims to sell 33 million tablets this year, up from last year's 16 million," reports The Korea Times.
UPDATE: Samsung responded by saying it is not shuttering its desktop PC business. "The rumor that Samsung is withdrawing from the PC desktop business is groundless," the company said in a statement.
Related News:
Samsung Unveils the ATIV One 5 Style, a Windows 8 AIO with Galaxy Design, Engadget, 6/20/13
Samsung ATIV One 5 Style is a Galaxy-styled all-in-one PC (Hands-On), CNET, 6/20/13