Roku is introducing new hardware at CES this week, including a number of 4K TVs featuring Dolby Vision HDR (high dynamic range). The company, whose app platform is now the basis of 13 percent of smart TVs sold in the U.S., has partnered with Element Electronics on Roku TVs expected to hit shelves later this year. TCL, which uses the Roku TV program for all its smart TVs, is also introducing new Roku-based 4K HDR TVs. And Hisense unveiled its H4 series, the company's first 4K HDR Roku TVs. Dish, Dolby, Element, Hisense, Hitachi and TCL are among the vendors showcasing Roku TVs in Las Vegas.
"Roku offers TV partners an incredibly easy, efficient and cost-effective way to build smart TVs that consumers love," said Chas Smith, general manager Roku TV & Players. "This spring, with the introduction of our new 4K HDR platform, we are looking forward to further expansion, giving us the ability to reach more partners and consumers."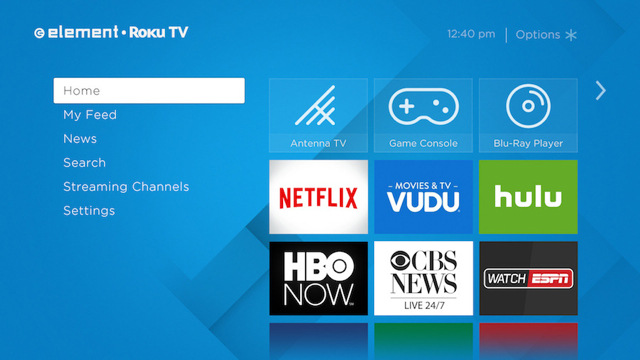 IHS reports that Roku's app platform currently powers 13 percent of smart TVs sold in the United States, up from 8 percent last year. For 2017, the company anticipates a 50 percent jump with about 150 Roku TV models to be available in North America.
Roku cites Chinese company TCL as one success story. According to the press release: "TCL uses the Roku TV program to build all of its smart TV models in the U.S. and has climbed from the 19th largest brand in 2014 to the 6th in 2016, becoming the fastest growing TV brand in America." (TCL also made headlines with its announcement that it would resurrect the BlackBerry, first with a model rumored to be called Mercury.)
TCL plans to offer 25 Roku TVs this year in North America, all with HDR.
Roku TV has increased its streaming offerings six-fold since last January, and currently provides access to "450,000+ movies and TV episodes through 4,500 streaming channels." The company announced "it now has more than 13 million monthly active accounts," reports Variety. "Roku customers streamed more than 9 billion hours of video and music in 2016, the company said."
Topics:
4K
,
Android
,
App
,
App Platform
,
BlackBerry
,
CES 2017
,
Channel
,
Chas Smith
,
China
,
Dish
,
Dolby Vision
,
Element Electronics
,
HDR
,
HDR10
,
Hisense
,
Hitachi
,
IHS
,
iOS
,
Las Vegas
,
Mercury
,
Movie
,
Music
,
Roku
,
Roku TV
,
Sling TV
,
Smart TV
,
Smartphone
,
Streaming
,
TCL
,
Television
,
TV Show
,
UHD TV
,
Ultra HD
,
Video