Roku officially revealed the Roku 4, priced at $129.99, which supports 4K/Ultra HD and HDTVs, and features a new operating system, faster processor, improved Wi-Fi and more memory. Roku OS 7 improves users' ability to discover specific content among its 3,000+ apps and channels. The company also unveiled an updated mobile app, which offers a streamlined design for Search, the Roku Feed and remote control from the smartphone. The Roku 4 joins several upgraded connected players from Amazon, Apple, Google and TiVo.
Although competition is heating up in the connected player market, says TechCrunch, "Roku's position as an independent third party trying to support all the popular streaming services, even niche offerings, has been its biggest advantage."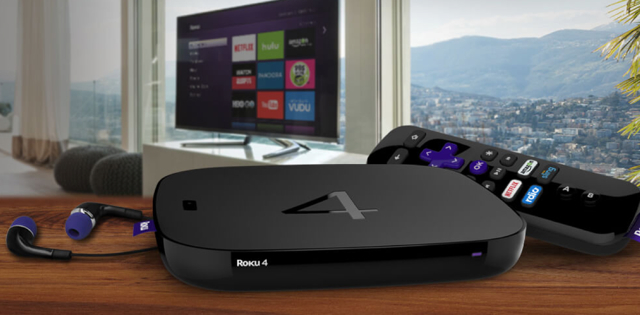 Many of the upgrades focus on support for 4K hardware and software. That includes a quad-core processor and other improvements that enable full 60 fps, says Roku director of product management Lloyd Klarke. "We mean full support for HDCP 2.2, which is the security protocol that makes sure 4K stays true all the way through. It's 4K done right."
The Roku OS 7 also makes it easier for users to find 4K content; a new "4K" row in the Channel Store prominently displays Netflix, M-GO, Amazon Instant Video, YouTube, Vudu and ToonGoogles, which provide 4K content. A curated 4K Spotlight channel, found on Roku users' home screen, shows TV shows, movies and other content, and Roku offers users 4K "themes and screen savers" to customize their home screens. Roku 4 also supports Wi-Fi networks found in some dorm rooms and hotels.
What Roku 4 doesn't have is a smart assistant such as Siri, to help with voice search. The company is also not aiming its upgraded player at gamers, unlike most of its competitors. Bloomberg points out that, despite what the competition is doing, Roku chief executive Anthony Wood "doubts that Roku or any of its direct competitors will make much headway with gamers."
"Our attitude on gaming is that it's a feature, not a strategy," says Wood. "We think the middle ground of streaming players offering games is not really a viable market."
Each competitor is its own use case, but DFC Intelligence chief executive David Cole seems to agree with Roku's strategy. "In terms of the impact these devices have had on gaming, it is close to none so far," he says. "We think that is likely to change in the future, but not necessarily the near future."
Topics:
4K
,
Amazon Instant Video
,
Anthony Wood
,
David Cole
,
DFC Intelligence
,
Gamer
,
Gaming
,
HDCP
,
HDTV
,
Lloyd Klarke
,
M-GO
,
Netflix
,
Operating System
,
Remote Control
,
Roku
,
Roku 4
,
Roku Feed
,
Roku OS 7
,
Search
,
Siri
,
Smartphone
,
Streaming
,
ToonGoogles
,
UHD
,
UHD TV
,
Ultra HD
,
Video
,
Vudu
,
Wi-Fi
,
YouTube