While CES saw an array of gaming laptops, mice, monitors and streaming services this past week, Razer debuted a compelling alternative for gamers looking to seriously ramp up their home setups. An extension of Razer's Chroma full-spectrum lighting system — which brightens keyboards, headphones, mice and more — the new concept 4K projector, dubbed Project Ariana for now, lets gamers compete beyond their monitor by essentially taking over an entire room. Razer also announced that other manufacturers, including Antec, Lenovo, Lian Li, NZXT, Philips, Nanoleaf and Wicked Lasers would be using the 16.8-million-color platform.
"Lenovo, for example, is integrating the technology into its desktop chassis," reports Engadget. "Philips, on the other hand, is tying the API module to its line Hue bulbs so that they'll change color in response to the onscreen action — not unlike Philips' Ambilight televisions."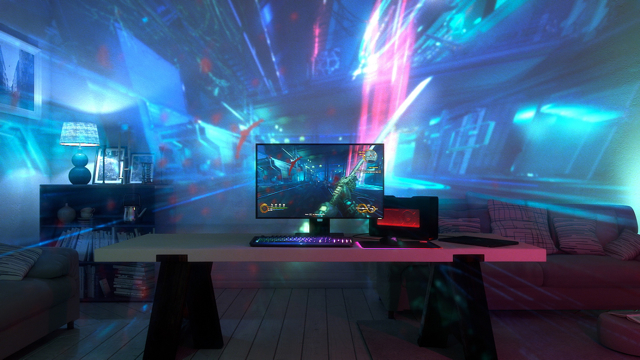 Project Ariana employs a wide-angle fisheye lens in order to project real-time video of gaming onto a wall or other surfaces, for a more immersive experience than what is traditionally offered with monitors. A pair of 3D depth-sensing cameras detects lighting, furniture and other variables. Some say it is similar to the approach taken by Microsoft's Illumiroom concept.
Razer CEO Min-Liang Tan suggests Project Ariana is "the future of Razer Chroma." "Having a game literally surround a gamer completes the entire ecosystem of gaming," he said.
While pricing and release details have yet to be announced, "Razer says it hopes to have it ready by the year's end," explains Engadget. "When it's here, it'll also function as a regular 4K projector, which Razer believes will be superior due to its depth-sensing cameras." This could open the door for future applications of interest to the M&E industry.
Project Ariana took home the Best Gaming Product award from Engadget's annual Best of CES competition, in addition to the coveted People's Choice award, marking the fourth consecutive win in this category for Razer.
"It won first place handily with over 40 percent of the vote," notes Engadget, "while Nvidia's GeForce Now game-streaming service came in second and the LG OLED W-Series finished third."
Topics:
3D
,
4K
,
Ambilight
,
Antec
,
Camera
,
CES 2017
,
Chroma
,
Fisheye Lens
,
Gaming
,
GeForce NOW
,
Headphones
,
Hue Bulbs
,
Illumiroom
,
Keyboard
,
Laptop
,
Lenovo
,
LG
,
Lian Li
,
Lighting
,
Microsoft
,
Min-Liang Tan
,
Monitor
,
Mouse
,
Nanoleaf
,
Nvidia
,
NZXT
,
OLED
,
Philips
,
Project Ariana
,
Projector
,
Razer
,
Streaming
,
Video
,
Wicked Lasers