The Pentagon and the Federal Communications Commission are preparing separate plans for Defense Department-controlled 5G wireless spectrum, both dubbed the Beat China for 5G Act of 2020. The Pentagon would create a military cellular network and lease extra capacity to the private sector. The FCC wants to auction some of the spectrum in late 2021. The Pentagon's more detailed plan may go public before the November 3 presidential election. The spectrum is currently used for military radar and aviation.
The Wall Street Journal reports, in response to the Pentagon's plan, "telecom industry experts say the more aggressive Pentagon proposals could threaten the value of other cellular licenses that companies such as AT&T and Verizon Communications paid tens of billions of dollars to amass." To drive home the point, sources reported that AT&T chief executive John Stankey "visited the White House on September 30 to argue against proposals that might skirt the regular auction process."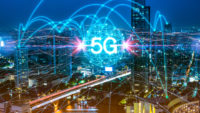 A bipartisan group in Congress has "closed ranks behind the FCC's traditional spectrum plan," sponsoring a law that would require the federal government to "begin an auction before 2022." Senator John Thune (R-South Dakota) wrote President Trump against the Pentagon's plan because it "contradicts the successful free-market strategy you have embraced for 5G."
House Energy and Commerce Committee chair Frank Pallone (D-New Jersey) "wrote the Commerce Department's telecom administration office seeking information on federal policies" that he dubbed "incoherent and erratic." He also claimed that the Defense Department doesn't have the authority to override the auction.
Until the late 20th Century, the FCC "granted licenses to television and radio stations free of charge." The dramatic growth of cellphones "allowed the government to auction new licenses and steer the proceeds to the U.S. Treasury."
The Defense Department's wireless spectrum is particularly well suited for high-speed 5G networks. MoffettNathanson analyst Craig Moffett "estimated the whole spectrum band alone would fetch as much as $100 billion at auction, though the existing supply of spectrum flooding the market could lessen that amount." Alphabet and others pointed out that, "new technology allows the latest smartphones to share the airwaves with other devices, reducing the need for expensive licenses."
WSJ notes that, "sharing the airwaves would allow wireless network operators to lease the spectrum instead of buying it." Moffett added that the country's telecom policy "might change under a Biden presidency … [but that] the focus on what might change, however, seemingly ignores the utter incoherence of the status quo."