Last week, Facebook finally unveiled Paper, its much-anticipated mobile app that allows users to enjoy a personalized news stream. The app is launching today for the iPhone (an Android release has yet to be announced). Paper is essentially staffed by a computer algorithm and human curators, based on links shared by Facebook's 1.2 billion users. Paper offers news in sections, similar to those of a newspaper, and uses smartphone tech such as gyroscopes and sensors to help drive interactive navigation.
The standalone smartphone app has been in development since mid 2012. It is not available on tablets or desktops.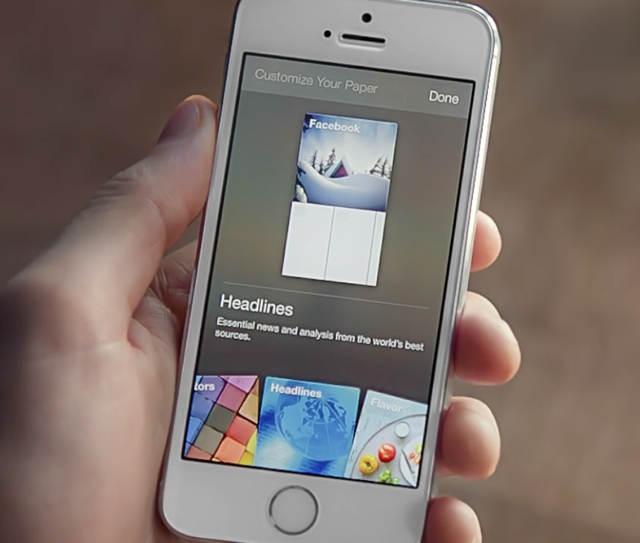 "The move is part of Facebook's long-term strategy to be more than just a popular app, or a destination on the Internet," suggests The Wall Street Journal. "Facebook wants to be the global hub of human communication, essential in the lives of its users."
"It's also part of a Facebook push to develop a suite of apps that will co-exist alongside the main Facebook app," notes the article. "So far, the effort has had mixed results: CEO Mark Zuckerberg Wednesday said use of Facebook's Messenger app had increased 70 percent during the past three months. Facebook's instant-message Poke app has been less successful. Zuckerberg Wednesday hinted at more apps to come."
WSJ describes Paper as "smooth and sleek," adding that "swiping through the app happens lightning fast." The Verge suggests it is "a complete reimagining of Facebook itself," and "once you've used it, you may never want to open the standard Facebook app again."
"Facebook says it won't be heavily promoting Paper within its standard app, but it still poses a big threat to other news reader apps like Flipboard, Prismatic, Circa, and Pulse," notes TechCrunch. "Each has its strengths. Flipboard has magazines curated by other users, while Prismatic relies on artificial intelligence to provide the most relevant articles. Facebook's massive treasure chest of data on what people share could be its not-so-secret weapon. Then again, some of Facebook's standalone apps like Camera and Poke have failed miserably despite their advantages so we'll have to wait to see how things shake out."
Facebook's Paper site offers additional details on exploring and sharing stories, including an introductory video.
Topics:
AI
,
Algorithm
,
Android
,
App
,
Apple
,
Camera
,
Circa
,
Communication
,
Curate
,
Desktop
,
Facebook
,
Flipboard
,
Global
,
Google
,
Gyroscope
,
Hub
,
iPhone
,
Magazine
,
Messenger
,
Mobile
,
Navigate
,
News
,
Newspaper
,
Paper
,
PC
,
Personal
,
Personalize
,
Phone
,
Poke
,
Prismatic
,
Pulse
,
Reader
,
Sensor
,
Share
,
Sharing
,
Smartphone
,
Social
,
Social Media
,
Stream
,
Suite
,
Swipe
,
Tablet
,
Video
,
Worldwide
,
Zuckerberg