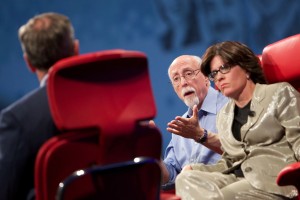 Walt Mossberg and Kara Swisher of The Wall Street Journal hosted the D9 (D: All Things Digital) conference May 31 to June 2 in Rancho Palos Verdes, California. The annual event featured compelling interviews and demonstrations from an array of top media and technology executives representing companies such as HP, Twitter, AT&T, Nokia, Netflix, Disney, Adobe and many more.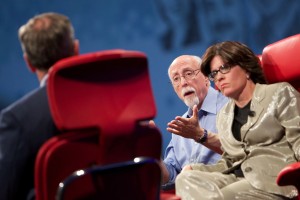 The D conference was established in 2003 by columnists Mossberg and Swisher as an annual showcase for technology innovators and big names from the worlds of business, entertainment and occasionally politics. This year the title was "D9" (indicating its ninth year). The conference is known for hosting influential heavy-hitters and its somewhat exclusive nature. Typically, attendance is limited to about 500 guests.
ETCentric readers were quick to forward relevant news items and announcements that emerged during this year's show. The following is a collection of links to articles and videos submitted by our readers, accompanied by their comments:
D9 Video: Eric Schmidt Highlights
Google, Apple, Amazon and Facebook are successfully exploiting global platform strategies.
Challenge working with entertainment companies since taking content from scarcity to ubiquity.
Also need to deal with disintermediation and piracy. On privacy, Google will remain a place where you can do anonymous searches. And committed to insuring you have control over information they have on you.
We're seeing the consumerization of IT that will lead to the death of IT as we know it.
There are not sufficient resources to develop for more than the two largest players: Google and Apple.
Search is moving from link-based answers to algorithmically-based answers using artificial intelligence.
Concerned about a balkanization of the Internet, which will lead to an Internet per country.
If you're concerned about security, use the Chrome browser and use a Mac.
Google Shows Off Its Groupon Killer, Launching Tomorrow
Video of Eric Schmidt's demo of Google Wallet and Google Offers.
Google is not charging a processing fee but is taking a share of the offer.
Credit card companies are willing to upgrade the POS terminals to get benefits of higher security.
Lookout Groupon, LivingSocial, etc.!!!
Groupon CEO Andrew Mason on Google, Clones and Hubris – But Not on an IPO
CEO sees Groupon evolving in three phases so far: One – the Daily Deal, Two – Personalized Deals, and Three – a technology company where they become more integral to a person's daily life (i.e. wherever they are and whatever they want to do, they can get a deal right now based on the inventory of available deals).
Could you use Groupon to sell media?
D9 Video: Microsoft's Steven Sinofsky on Windows 8
95 percent of how the world gets on the Internet is through Windows.
Windows 8 will be a "modern" rethink to enable PCs and tablets to satisfy "things they say are solved in an iPad" and still bring all the benefits of Windows.
Video demo of Windows 8 showing touch-based UI (can still use mouse too), live tiles.
Targeting 2012.
Free video discovery app Fanhattan launched at D9 this week.
The iPad app serves as a directory and discovery engine, sourcing reviews and ratings from Metacritic and Rotten Tomatoes, while organizing related content from the likes of YouTube, IMDb and Amazon.
Also shows pre-release version running on an Internet TV which is capable of creating a branded movie page in this case for Pirates of the Caribbean.
It connects to iTunes, Netflix, Hulu and the ABC Player to view TV and movies.
D9 Video: Hewlett-Packard CEO Leo Apotheker
WebOS will be available to other companies and enterprises for their own use.
Goal is to create an end-to-end ecosystem that figures out on a single device in the Cloud whether you're doing enterprise or private work.
HP can create a large ecosystem of printers, PCs and tablets amounting to 100 million devices a year itself. They hope to interest others as well.
D9 Video: Reed Hastings Highlights
On Netflix's virtuous cycle: the more content they get, the more members they get and they can pay more for content.
Consumers want all the new stuff but that's very expensive.
At $8/month, they're a compliment to the new stuff.
The news stuff will remain pay-per-view since has higher margin for content owners.
Can grow from 24 million subscribers currently to capture Internet TV and tablet viewers plus a share of the 5 billion active mobile phone users worldwide who like video.
Need to stay innovative.
Focus on talent density, which is the fewest number of talented people.
D9 Video: Twitter CEO Dick Costolo
Took three years to send the first billion tweets. Now sends a billion tweets every SIX days!
There are over 600,000 developers who have downloaded over 900,000 API tokens.
Will look to TweetDeck (recently acquired) as the professional UI.
Rolling out a native photo sharing app, relevance sorted search results and web intents which allows you to add a Twitter client into your website. 80 percent of advertisers using promoted tweets renew.
Advertisers are experiencing very high engagement rates (VW's ad: 52%).
Focused on success of business, not IPO.
DARPA – The Coolest Agency You've Never Heard Of: Regina Dugan at D9
Regina Dugan's DARPA t-shirt says "Impossible, Improbable, Inevitable" which describes the progression of their programs.
Developed Internet, GPS, stealth, night vision, UAV, MEMS technologies.
DARPA's Mission is the "prevention and creation of strategic surprise."
Encourages programs to have the big success.
So that means they can't fear failure. Fear of failure is the limiting factor.
Talks about growth in need for cyber security, new computing architectures, explosive detection system.
Inkling reinvents the college textbook for the iPad that is both interactive and social.
Rather than paying $200 for a book, you can buy it a chapter at a time for far less cost since the content is not re-sold like a physical book.
See impressive video demo.